Can A Passenger In A Car Accident Retain An Attorney?
Most car accidents involve at least one passenger. Sometimes, passengers suffer injuries that are very serious. When you're a passenger in a car accident, you may wonder how to go about getting the compensation that you deserve. You may wonder if you can get an attorney as a passenger in a car accident. The answer is yes, you can get an attorney if you're a passenger in a car accident.
Our Nevada attorneys explain what you need to know.
START YOUR FREE CONSULTATION
NO FEES UNLESS WE WIN!
Can A Passenger Retain A Car Accident Attorney?
Yes, a passenger can retain a car accident attorney. The attorney can represent you in all aspects of pursuing compensation like notifying the insurance company of the claim and evaluating settlement offers. They can bring a legal claim and pursue it on your behalf. A passenger can retain a car accident attorney to protect their legal rights and take steps towards helping the passenger receiving fair compensation.
A car accident attorney can help the passenger protect their legal interests. Much like an attorney can represent a driver after a car accident, an attorney can represent a passenger as well.
The differences between driver and passenger representation include things like who to consider that may be responsible for damages (both drivers and their insurance companies may be liable to a passenger), and the fact that comparative negligence is unlikely to be an issue for a passenger.
Here are some things that your attorney wants you to understand if you're a passenger in a car accident:
1. A passenger may deserve financial compensation when they're hurt in a car accident
Compensation for a car accident isn't limited to just the drivers.
When you're hurt in a car accident, you may deserve financial compensation even if you're the passenger. In fact, your legal rights are much like the rights that the driver has who is not at fault for the accident.
The range of compensation that you deserve, like financial losses and pain and suffering, is the same range of compensation that a driver who is a victim can receive for their case.
2. They may have a claim against the other driver, the driver of the vehicle they are in, or both
Evaluating a car accident case for a passenger is slightly more complex than it is for a driver. That's because both of the drivers may share liability for the accident.
Winning fair compensation may be a matter of filing claims with multiple insurance companies. Of course, the drivers may try to point fingers at each other, so proving the fault of each driver may be an important task.
3. The passenger may also have a claim against a vehicle manufacturer
In addition to having a claim against the drivers, a passenger should also look at whether they have a claim against a vehicle manufacturer. If the accident occurs because of a defect with the vehicle, it may be the vehicle company that has legal liability.
An attorney for a passenger in a car accident can help you evaluate whether you should bring a claim against a vehicle manufacturer.
Read More: Car Safety Recalls and Liability
4. The attorney can work for you to receive fair compensation
Once you sort out who may be responsible for your claim, your attorney helps you address the unique issues that may be present in working to receive fair compensation for a passenger. The insurance companies may offer a settlement, and your attorney can help you evaluate the offers. However, it's often necessary to file a formal legal claim.
An attorney for a passenger in a car accident helps with everything that is part of pursuing compensation. They assist you with all of the following steps:
Drafting the summons and complaint
Serving the appropriate parties
Addressing issues of comparative negligence between parties
Understanding questions of how a settlement with one party may impact the case against another party
Building the evidence; conducting depositions
Presenting the case at trial; negotiating non-trial settlements
When you're a passenger in a car accident, an attorney can be your advocate. Not only can you hire an attorney, but the attorney you hire can help you with all of the steps that are a part of getting monetary compensation for the passenger.
What Damages Can I Claim As A Passenger In A Car Accident?
If you are a passenger in a car accident, you can claim any of the following injuries and damages:
Broken bones
Tendon and ligament damage
Other medical injuries and the costs associated with treatment
All medical bills associated with treatment
Physical therapy
Wheelchairs, scooters, in-home medical devices as needed
Punitive damages (if you qualify)
Your attorney helps you identify and claim all of the losses that you have.
Can I Claim Whiplash If I Was A Passenger?
Yes, you can claim whiplash if you were a passenger. As a passenger, you have a right to claim the full range of damages that may apply in your case. If you have whiplash, with or without broken bones, you may claim it as a passenger. In order to make a claim for whiplash, you need to document the injury through receiving medical care and a medical examination to identify your injuries.
Related: What Exactly is Whiplash?
Nevada Attorneys For Passengers In Car Accidents
Our Nevada attorneys for passengers in car accidents can represent you! If you're looking to hire an attorney to represent you when you're a passenger involved in a car accident, we invite you to meet us to learn about our team. Adam Kutner, Injury Attorneys is a large team of attorneys and other professionals who fight aggressively for the rights of car accident victims. To us, your case is personal. We give your case the individual attention that you need to get results.
Adam Kutner, Injury Attorneys has a long history of representing passengers in car accidents. We understand the unique issues that are involved, and we're dedicated to working to protect your rights. Your consultation is free, and there's no obligation.
Legal Disclaimer
This webpage is not intended to be an advertisement or solicitation. The hiring of a lawyer is an important decision that should not be based solely upon advertisements. Material contained in our website is for general information only and does not constitute legal advice or solicitation of legal services.
Transmission of information from this site is not intended to create, and its receipt does not constitute, an attorney-client relationship between Adam S. Kutner and the user of this site. In the event that any information on this web site does not conform fully with regulations in any jurisdiction, this law firm will not accept representation based on that information.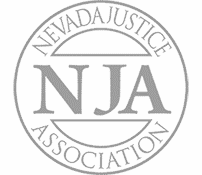 Adam Kutner es uno de los 100 mejores abogados litigantes con experiencia y conocimientos que lo beneficiarán
Llámenos hoy al (702) 382-0000 en cualquier momento para programar una consulta gratuita. Trabajaremos para conseguirle la máxima liquidación lo antes posible.
Conozca a más abogados asociados
Adam Kutner Reviews & Testimonials
"We were in a car accident – we were coming off of the interstate and were waiting – yielding at the exit and a car sped through the exit and smacked us in the rear.
It was definitely scary especially because we had our baby in the car. My husband and I and our baby in the back seat. We definitely – immediately went back in and checked on her to make sure she was okay.
We definitely had back pains my daughter had headaches. She kept holding her head and crying. It was pretty bad.
I remember seeing a couple billboards and a friend of mine did say they had a pleasant experience with Adam Kutner, so we called them right up.
They definitely were thorough, and you could tell just by talking to the people in the office that they genuinely cared about their clients.
They contacted us saying you know, explain the process on how the settlement gets done and about a week after that happened we had our settlement which was great and in my opinion Adam S. Kutner is the best attorney in Las Vegas."
– Janae Reynolds. 5/5 Stars
Real Client Testimonial: Janae Reynolds
START YOUR FREE CONSULTATION
NO FEES UNLESS WE WIN!
Home Visits Are Available
Call Now for Details