Determining Car Accident Fault By Location of Damage
After a car accident, there are a variety of different methods that can be used to help determine who was at fault for the collision. The location of the vehicle damage may be significant to both determining fault and your claim for recovery. This is because the position of vehicle damage can shed light on the circumstances leading up to the crash.
Vehicle damage is one of several things to consider when you're investigating your case. It's important to understand the details of using location to determine fault as this is not always a sure fire way to ensure a successful outcome in your auto accident case. Here's how vehicle damage may play a role in your case.
START YOUR FREE CONSULTATION
NO FEES UNLESS WE WIN!
The location of impact and the damage to the vehicles can say a lot about how a traffic crash occurred. By looking at where the damage is on the automobile, you can work backward to determine how the accident may have happened.
For two objects to have a collision, there must be forces at work. If your vehicle travels in a specific direction at a particular speed, it's likely to cause a certain type of damage on impact with another vehicle. By examining both vehicles, you can start to narrow down what must have happened to cause your accident.
In some cases, the damage tells the entire story. When looking at the damage to your vehicle, it's possible that there's only one way that it could have occurred. If that's the case, all you need to do is help the jury connect the dots. Our Las Vegas and Henderson car accident attorneys are experts at assisting juries to connect those dots.
In other cases, the vehicle damage can help you rule out ways that the accident could not have occurred. In those cases, the damage might not definitively answer the question of fault, but it can be a good starting point to narrow down the possible chain of events.
There are times when damage can go a long way in proving fault in a Nevada car crash. For example, if you're rear-ended, you'll have damage to the back of your vehicle. The car behind you will have damage to the front of their vehicle.
In most cases, the vehicle in the back is at fault. Because the vehicle behind you failed to comply with Nevada traffic laws when they didn't leave enough stopping distance, they're usually at fault for a rear-end crash.
In other cases, damage alone may not tell the entire story. For example, if you have damage to your left passenger side and the other driver has damage to their front end, the damage alone may not definitively answer the question of fault. Most likely, the damage occurred when they hit you as you tried to turn left.
However, that doesn't answer the question of who had the right of way. If your light was green and they ran a red light, they're at fault. However, if you tried to turn left on a red when you didn't have the right of way, then you're at fault. The location of the damage alone doesn't offer enough information. In that case, you need to rely on witness testimony to determine who acted negligently.
The location of the damage is often only one piece of the puzzle. Your car accident attorney will consider damage location as well as speeds, acceleration, weather, tire marks, intoxication, and other personal characteristics of the drivers to piece together what happened. They'll talk to witnesses and analyze whatever issues may be relevant in your case.
In order to use the location of damage to determine car accident fault, it's helpful to preserve evidence of the damage. That way, the other side can't say that you're not telling the truth or that you are misremembering things. To start, you can collect photos at the accident scene. You can use the camera on your phone or any simple camera to snap a few pictures. It's best to err on the side of taking too many photos instead of wishing later on that you had taken more.
When you're taking photos, it's important to remember not just to take photographs of your vehicle. Take pictures of all of the other vehicles involved. You may also want to take photos of skid marks on the road. If there's debris, the location of the debris can be beneficial later on. A comprehensive view of the accident scene can also help your legal team piece together what occurred.
You may also want to inspect the other vehicle. You might use Nevada Rule of Civil Procedure 34 to request an inspection. You will likely need to work very quickly to make this request.
You might receive an estimate for repairs from a car repair shop. This estimate might include a helpful list of things wrong with your vehicle from a skilled mechanic's perspective. It's also important to call law enforcement to the accident scene.
The police are often the only ones who have the luxury of looking at the crash scene live. Your attorney may supplement their work by returning to the crash scene, but the police can gather valuable evidence of the damage on the scene immediately after the crash.
Many times, crash victims work with accident reconstruction experts to determine how the location of the damage explains how a crash occurred. They can apply physics to all of the relevant circumstances of the case.
With their training and experience, they can help the jury connect the dots to reach the right conclusion based on the evidence. An accident reconstructionist is an expert witness, so it's essential to work with your attorney on how to present this type of evidence.
Although this type of evidence can be immensely helpful to your case, the location of vehicle damage is only one piece of the puzzle in a car accident case. Evidence of the location of the damage can help you build your case and determine how the crash occurred. These considerations are crucial for reaching a favorable outcome in your case, should the fact support it.
Experienced Las Vegas car accident attorneys can help you build on the evidence and prepare your case in the best possible light. It's essential to work with a lawyer after a car crash, no matter how minor, to ensure your rights are protected, and you have the support you need to make a full recovery.
Legal Disclaimer
This webpage is not intended to be an advertisement or solicitation. The hiring of a lawyer is an important decision that should not be based solely upon advertisements. Material contained in our website is for general information only and does not constitute legal advice or solicitation of legal services.
Transmission of information from this site is not intended to create, and its receipt does not constitute, an attorney-client relationship between Adam S. Kutner and the user of this site. In the event that any information on this web site does not conform fully with regulations in any jurisdiction, this law firm will not accept representation based on that information.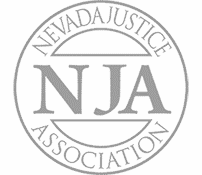 Adam Kutner es uno de los 100 mejores abogados litigantes con experiencia y conocimientos que lo beneficiarán
Llámenos hoy al (702) 382-0000 en cualquier momento para programar una consulta gratuita. Trabajaremos para conseguirle la máxima liquidación lo antes posible.
Conozca a más abogados asociados
Adam Kutner Reviews & Testimonials
"We were in a car accident – we were coming off of the interstate and were waiting – yielding at the exit and a car sped through the exit and smacked us in the rear.
It was definitely scary especially because we had our baby in the car. My husband and I and our baby in the back seat. We definitely – immediately went back in and checked on her to make sure she was okay.
We definitely had back pains my daughter had headaches. She kept holding her head and crying. It was pretty bad.
I remember seeing a couple billboards and a friend of mine did say they had a pleasant experience with Adam Kutner, so we called them right up.
They definitely were thorough, and you could tell just by talking to the people in the office that they genuinely cared about their clients.
They contacted us saying you know, explain the process on how the settlement gets done and about a week after that happened we had our settlement which was great and in my opinion Adam S. Kutner is the best attorney in Las Vegas."
– Janae Reynolds. 5/5 Stars
Real Client Testimonial: Janae Reynolds
START YOUR FREE CONSULTATION
NO FEES UNLESS WE WIN!
Home Visits Are Available
Call Now for Details