Examples of Driver Negligence in Car Accidents
Negligence may be grounds for legal liability in a car accident. The elements of negligence are the duty of care, breach of duty, causation of an accident and damages. As you think about negligence, it can be helpful to review examples. Remember that every case is different. However, here are some examples of negligence from our Las Vegas car accident lawyers.
START YOUR FREE CONSULTATION
NO FEES UNLESS WE WIN!
What Are Some Examples of Car Accident Negligence?
Some examples of car accident negligence include:
Two drivers are both traveling eastbound on the highway. The first vehicle is in the right-hand lane, going the speed limit. The second driver is right behind. Even though they're traveling at 55 miles per hour, the second driver is only 10 feet behind the first driver.
Suddenly, a deer runs into the road. The first driver is able to apply their brakes quickly and stop without hitting the deer. However, the second driver rear-ends the first driver. The second driver acted negligently by following too closely to the vehicle in front of them. In some jurisdictions, following too closely is also called tailgating or failing to stop in the assured, clear distance ahead.
Read More: NRS 484B.127 – Nevada Following Too Closely Law
There is heavy rain making the roads slick. Visibility is reduced. However, a driver is going the speed limit anyway. They can't see the vehicle in front of them before it's too late. As a result, they rear-end the car in front. Even though the weather itself is an act of God, drivers have a responsibility to take the weather into account. The driver who didn't account for the rain and slow down is negligent.
Drunk driving is an example of negligence. Drivers know that it's not safe to get behind the wheel while intoxicated. The duty of care that one driver owes to another prohibits operating a motor vehicle over the legal limit or while under the influence of drugs or alcohol. A driver who hurts someone or damages property because they are intoxicated is negligent.
A driver who commits road rage is negligent. In fact, road rage may be more serious than negligence. It may be recklessness or intentional misconduct. Even if a driver offends another driver on the road, the one who is slighted cannot retaliate. Any driver who takes action that is motivated by road rage is at least responsible for negligence, if not more serious misconduct.
Two drivers approach an intersection. The light is turning red, but the driver thinks they can make it through anyway. They proceed through the intersection on a red light. At the same time, the driver with a green arrow is turning left. The two cars collide. Negligence occurs when a driver fails to observe a traffic signal like a red light or a stop sign.
A driver has been up for the last 24 hours. They just want to get home. However, they're in no condition to drive. They can't stay awake while on the road. As they drift in and out of sleep, they cross the centerline and collide with an oncoming car. The driver who chooses to drive while they are too tired or exhausted to focus on their driving is guilty of negligence.
Going too fast around a corner is an example of negligence. A driver has to take the conditions of the road into account while they drive. That means accounting for the curves and corners on the route. If a driver slides off the roads or into oncoming traffic because they're going too fast around a corner, they may be liable to victims for damages.
A driver wants to send a text. They take their eyes off the road for three seconds. Unfortunately, that three seconds is long enough to cause a car accident. Texting while driving can cause a driver to divert their attention from the task at hand. When that happens, the driver is responsible for negligence.
A driver has a responsibility to keep their vehicle in working condition. When there are problems with a car, the driver has an obligation to get the issues addressed. Of course, a driver may not always know about unexpected issues. However, if an accident occurs, a driver can be responsible for neglecting routine maintenance or failing to address problems that arise.
When a driver suffers a stroke, his doctor tells them to give up driving. The doctor warns the person that there is too much risk to continue to operate a motor vehicle. However, the person doesn't listen. He has another medical event and a car accident results. The driver acted negligently by ignoring known, reasonable warnings about their health.
What Is Not Car Accident Negligence?
There are a few causes of accidents that may not amount to negligence, including:
Sometimes, a car has an inherent defect. This defect may have occurred because of the manufacturer's design or an error in building the car. Whatever the reason, the driver isn't aware of the defect. They expect the vehicle to act normally, but it doesn't.
An accident occurs. This is not an example of car accident negligence by the car driver. Instead, all injured parties may have a claim against the vehicle manufacturer for the defect that caused the accident.
Attorneys For Car Accident Negligence
Are you wondering if car accident negligence occurred in your case? Do you want to know if your crash is an example of car accident negligence? We represent car accident victims in Las Vegas and throughout Nevada. Contact us today to talk about your case.
Legal Disclaimer
This webpage is not intended to be an advertisement or solicitation. The hiring of a lawyer is an important decision that should not be based solely upon advertisements. Material contained in our website is for general information only and does not constitute legal advice or solicitation of legal services.
Transmission of information from this site is not intended to create, and its receipt does not constitute, an attorney-client relationship between Adam S. Kutner and the user of this site. In the event that any information on this web site does not conform fully with regulations in any jurisdiction, this law firm will not accept representation based on that information.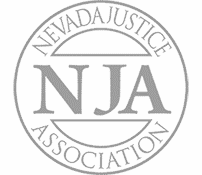 Adam Kutner es uno de los 100 mejores abogados litigantes con experiencia y conocimientos que lo beneficiarán
Llámenos hoy al (702) 382-0000 en cualquier momento para programar una consulta gratuita. Trabajaremos para conseguirle la máxima liquidación lo antes posible.
Conozca a más abogados asociados
Adam Kutner Reviews & Testimonials
"We were in a car accident – we were coming off of the interstate and were waiting – yielding at the exit and a car sped through the exit and smacked us in the rear.
It was definitely scary especially because we had our baby in the car. My husband and I and our baby in the back seat. We definitely – immediately went back in and checked on her to make sure she was okay.
We definitely had back pains my daughter had headaches. She kept holding her head and crying. It was pretty bad.
I remember seeing a couple billboards and a friend of mine did say they had a pleasant experience with Adam Kutner, so we called them right up.
They definitely were thorough, and you could tell just by talking to the people in the office that they genuinely cared about their clients.
They contacted us saying you know, explain the process on how the settlement gets done and about a week after that happened we had our settlement which was great and in my opinion Adam S. Kutner is the best attorney in Las Vegas."
– Janae Reynolds. 5/5 Stars
Real Client Testimonial: Janae Reynolds
START YOUR FREE CONSULTATION
NO FEES UNLESS WE WIN!
Home Visits Are Available
Call Now for Details