Injured By A Drunk Driver?
Remember, you have important rights. Whether or not the responsible party faces criminal charges, you deserve financial compensation for your injuries and suffering. Our attorneys for victims of drunk drivers represent people who are hurt by drivers under the influence of alcohol and drugs. Let us fight on your behalf to get the financial relief you need now.
Call our Las Vegas car accident lawyers today for a free consultation. We're ready to get started on your case immediately.
START YOUR FREE CONSULTATION
NO FEES UNLESS WE WIN!
Why We Should Handle Your Lawsuit
We Have the Experience
With over 31 years practicing personal injury law in the Las Vegas area, Adam S. Kutner, Injury Attorneys have direct experience navigating the Nevada court system helping win settlements quickly so you can get back to your life.
No Fees Unless We Win
This way you can focus more on your case and possible injuries without worrying about paying a retainer upfront. We are deeply committed to making sure every victim of a drunk driving catastrophe gets the comprehensive legal representation they deserve.
Your Car Accident Case Is Our Priority
We work diligently to build strong claims for compensation, including medical bills, lost wages, pain and suffering, emotional distress and loss of consortium.
Our Team Is the Best in the Las Vegas Valley
As proud members of this community, we know that our clients are our neighbors, and when they are hurt in a drunk driving accident, we make it our mission to ensure they are represented with care as though they are our family.
Do I Need a Lawyer if I'm Hit by a Drunk Driver?
You need a lawyer if you're hit by a drunk driver to ensure that you receive the justice that you deserve, including financial compensation. A lot of people make the mistake of assuming that a drunk driving case is a criminal matter. They hope that the defendant is found guilty, and maybe, in the process, their emergency room bills are paid.
However, your legal rights are so much more than that. You have the right to a wide range of compensation that goes far beyond immediate medical bills. You deserve compensation for all of your losses, which can occur in many different areas of your life. Don't leave it to chance.
Call our law firm today for your free consultation. Meet us and learn about your possible paths going forward. We're here to fight for you.
Compensation for the Victim of a Drunk Driver
Here are some kinds of compensation a victim of a drunk driver may qualify to receive:
Emergency room bills
CT scans, MRI costs, X-rays
Surgery, other types of emergency care
Nursing care, intensive care expenses
Long-term medical bills including follow-up appointments and rehabilitative care
Lost wages if you're unable to work
Pain and suffering
Mental anguish
Payment for diminished lifestyle and changes in life activities
Property damage
As you can see, the kinds of compensation that may be available to you are inclusive. Some types of losses are tangible losses that you can measure by totaling up the bills and missed paychecks. Other kinds of losses are harder to measure, like pain and suffering. But they are very real. As your attorneys for victims of drunk drivers, it's our goal to make sure that every kind of compensation is included in your claim.
Lawsuits Against Drunk Drivers – Frequently Asked Questions
There are several important ways that a criminal DUI case does not fully address the victim's losses. First, it's not the victim who decides whether to bring a criminal charge. The state prepares the evidence, tries the case and decides whether to offer a plea deal. Although the victims may have input, ultimately, they're not the ones in charge.
Also, the standard of proof to win a criminal charge is higher than a civil charge. In a civil case, you have to convince the jury by only a preponderance of the evidence, or more likely than not. The burden in a criminal DUI case is beyond a reasonable doubt. It's entirely possible for the state to lose a criminal trial but for the victim to win their civil trial.
Finally, a criminal matter cannot provide you with all of the compensation that you deserve. While a criminal case may result in compensation to the victim, it's usually just immediate, short-term medical expenses and property damage. Long-term losses and pain and suffering are left out. In addition, the state may not always intervene if the DUI driver doesn't pay. That can leave a victim without collecting even what's ordered through the criminal matter.
A DUI offense is both a civil and a criminal matter in Nevada. Only a civil drunk driving claim can fully protect the rights of the victim. The victim may hire the attorney of their choice to represent them in the civil proceeding.
An attorney for a drunk driver victim is a skilled and experienced person who can help you respond in the best way possible when you're hurt in a drunk driving accident. Usually, that means claiming financial compensation. An attorney for a victim of a drunk driver assists you by taking all the steps on your behalf that are necessary to win your case.
Here are some of the things that our car accident attorneys for DUI victims may do:
Investigate to determine if the other side has legal fault
Help you understand the difference between a civil DUI lawsuit and a criminal case, and explain why the distinction is important
Gather evidence to prove the value of your damages
Prove the injuries that you have and the basis for your legal claim
Filing court pleadings; research and draft briefs on legal issues
Represent you when it's time to speak in court
Handle tough conversations with the other side and the insurance company
Negotiate and collect your settlement
Take your case to trial
Take action to speed up your case
Guide you through the process and explain each step involved in the case
Legal Disclaimer
This webpage is not intended to be an advertisement or solicitation. The hiring of a lawyer is an important decision that should not be based solely upon advertisements. Material contained in our website is for general information only and does not constitute legal advice or solicitation of legal services.
Transmission of information from this site is not intended to create, and its receipt does not constitute, an attorney-client relationship between Adam S. Kutner and the user of this site. In the event that any information on this web site does not conform fully with regulations in any jurisdiction, this law firm will not accept representation based on that information.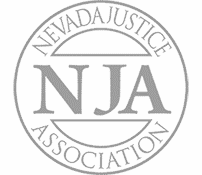 Adam Kutner es uno de los 100 mejores abogados litigantes con experiencia y conocimientos que lo beneficiarán
Llámenos hoy al (702) 382-0000 en cualquier momento para programar una consulta gratuita. Trabajaremos para conseguirle la máxima liquidación lo antes posible.
Conozca a más abogados asociados
Adam Kutner Reviews & Testimonials
"We were in a car accident – we were coming off of the interstate and were waiting – yielding at the exit and a car sped through the exit and smacked us in the rear.
It was definitely scary especially because we had our baby in the car. My husband and I and our baby in the back seat. We definitely – immediately went back in and checked on her to make sure she was okay.
We definitely had back pains my daughter had headaches. She kept holding her head and crying. It was pretty bad.
I remember seeing a couple billboards and a friend of mine did say they had a pleasant experience with Adam Kutner, so we called them right up.
They definitely were thorough, and you could tell just by talking to the people in the office that they genuinely cared about their clients.
They contacted us saying you know, explain the process on how the settlement gets done and about a week after that happened we had our settlement which was great and in my opinion Adam S. Kutner is the best attorney in Las Vegas."
– Janae Reynolds. 5/5 Stars
Real Client Testimonial: Janae Reynolds
START YOUR FREE CONSULTATION
NO FEES UNLESS WE WIN!
Home Visits Are Available
Call Now for Details