Exploring the Vehicle Damage Claim Process
When you make a vehicle accident claim to an insurance company, you might wonder how the process works. Most people who make an insurance claim aren't experts when it comes to the insurance industry. This makes working with an experienced car accident lawyer crucial to ensuring success with your claim.
You might wonder what to expect in the coming days as you bring your claim. Learning about the insurance claims process is critical to ensuring that you get the payments that you deserve and avoiding missteps that can derail your case. Let's explore the vehicle damage claims process in Nevada.
START YOUR FREE CONSULTATION
NO FEES UNLESS WE WIN!
What Is an Insurance Claim?
An insurance claim is a report of an event that you submit to an insurance company to ask for payment. You ask the insurance company to pay you because of losses that you sustain due to an event.
You take out an insurance policy to protect you in case an unexpected event occurs. An insurance claim is the process of telling the insurance company that an accident occurred and asking them to pay you for the losses that you have because of the crash.
Learning About Types of Insurance Policies
When you have an unexpected accident, it helps to familiarize yourself with the types of insurance policies that might apply to the case. Nevada is an at-fault state when it comes to car accidents, so it's most likely that the person who is at fault is the one who pays for the losses.
However, you might also have uninsured or under-insured motorist coverage that may apply to protect you if the other side doesn't have insurance or they don't have enough insurance to cover your losses. Exploring the types of insurance that might apply in your case can help you determine what policy to look to file your claim.
Understanding Deductibles
A deductible is an amount of loss that you have to cover on your own before your insurance policy kicks in and covers the rest. For example, if you have $10,000 worth of damage and your deductible is $1,000, you can expect the insurance company to pay you $9,000.
The amount of your deductible may vary based on what you choose at the time you buy your policy. If you keep your deductible in mind, you won't be surprised when your recovery is a bit smaller than you might expect.
Giving the Insurance Company Notice of the Complaint
The vehicle claims process begins by giving the insurance company notice of the complaint. You must tell the insurance company that an event occurred and you want payment.
Most insurance companies have instructions on how to submit a claim. You give the insurance company your contact information and some details about the accident. You wait for the insurance company to contact you for the next steps.
What Happens After I Give Notice?
The insurance company will usually have a representative, called an adjuster, contact you to talk about the case. They might agree to pay you immediately for your losses. But in most cases, they have follow up questions. They might need more information about how the accident occurred. They may also need more information about your losses.
It's Important to Provide Complete and Detailed Information About Your Claim
Take the time to document your losses carefully. You should know about your medical bills, lost work, and other losses. Even with the best of intentions, the insurance company needs information about your losses if they're going to offer you a fair payment.
Understanding the damages that you can claim and making sure that the insurance company has the information they need is critical to getting a fair payment for your claim.
Submit Notice of Your Claim as Soon as Possible
Many insurance companies have strict deadlines for filing a claim. It's best to make your claim as soon as possible. Submit notice to the insurance company that an event occurred. That ensures that you've started the ball rolling promptly.
How Long Does the Claims Process Take?
For a simple claim, the claims process can take a couple of weeks. When fault and damages are apparent, you can have a check in your hand in just a few weeks. In other cases, the claims process can take several months.
Keep the Statute of Limitations in Mind
If the insurance company doesn't agree to pay you relatively quickly, the case may drag on. The insurance company knows that if your case goes on for too long, the Nevada statute of limitations may prevent you from bringing a claim.
If it seems like the insurance company is dragging out the case and weeks are turning into months, it's time to consider filing a formal claim in the appropriate court. Your attorney can help you determine if it's time to file a formal complaint for recovery in the right Nevada court.
Remember There Are Policy Limitations
When it comes to the vehicle claims process, remember that the insurance company pays up to the policy limit. If you have $12,000 in damages and a $10,000 insurance policy, the insurance company pays up to $10,000. Remembering policy limitations can help you avoid surprises when you hear back from the insurance company about a settlement.
Fault May Increase Your Rates in the Future
If you're at fault for the accident, your insurance rates may go up. In cases of drunk driving or other acts of recklessness, your insurance rates may increase significantly. Part of the claims process for a vehicle accident claim may be the adjustment of your insurance rates in the future.
How Can an Auto Accident Attorney Help?
The vehicle claims process can be complicated. If you're in an accident, contact a skilled car accident attorney to discuss your case. Your attorney has the experience to help you understand how Nevada law applies to your case and what you can do to bring your insurance claim in the most successful way possible.
Legal Disclaimer
This webpage is not intended to be an advertisement or solicitation. The hiring of a lawyer is an important decision that should not be based solely upon advertisements. Material contained in our website is for general information only and does not constitute legal advice or solicitation of legal services.
Transmission of information from this site is not intended to create, and its receipt does not constitute, an attorney-client relationship between Adam S. Kutner and the user of this site. In the event that any information on this web site does not conform fully with regulations in any jurisdiction, this law firm will not accept representation based on that information.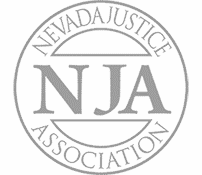 Adam Kutner es uno de los 100 mejores abogados litigantes con experiencia y conocimientos que lo beneficiarán
Llámenos hoy al (702) 382-0000 en cualquier momento para programar una consulta gratuita. Trabajaremos para conseguirle la máxima liquidación lo antes posible.
Conozca a más abogados asociados
Adam Kutner Reviews & Testimonials
"We were in a car accident – we were coming off of the interstate and were waiting – yielding at the exit and a car sped through the exit and smacked us in the rear.
It was definitely scary especially because we had our baby in the car. My husband and I and our baby in the back seat. We definitely – immediately went back in and checked on her to make sure she was okay.
We definitely had back pains my daughter had headaches. She kept holding her head and crying. It was pretty bad.
I remember seeing a couple billboards and a friend of mine did say they had a pleasant experience with Adam Kutner, so we called them right up.
They definitely were thorough, and you could tell just by talking to the people in the office that they genuinely cared about their clients.
They contacted us saying you know, explain the process on how the settlement gets done and about a week after that happened we had our settlement which was great and in my opinion Adam S. Kutner is the best attorney in Las Vegas."
– Janae Reynolds. 5/5 Stars
Real Client Testimonial: Janae Reynolds
START YOUR FREE CONSULTATION
NO FEES UNLESS WE WIN!
Home Visits Are Available
Call Now for Details