8 Kinds of Illegal Police Stops
People in the United States have the right to be free from harassment from the police. In other words, police powers are limited in the United States. A law enforcement officer can only stop or detain a person when they have a valid reason. The United States Constitution protects people from unlawful interference from federal, state and local law enforcement.
In order to protect your rights, it's helpful to see examples of illegal police stops. Here are eight different kinds of impermissible police stops explained by our Las Vegas car accident attorneys.
START YOUR FREE CONSULTATION
NO FEES UNLESS WE WIN!
The police can only stop you when they have a reasonable suspicion that a crime has been, or is being committed, by you. Law enforcement can't stop you unless they can articulate why they believe you are doing something against the law.
It's not enough for the police to make up a reason, either. Instead, their motive for stopping you must be reasonable under the circumstances when looking at it objectively. Terry v. Ohio, 392 U.S. 1 (1968) is the U.S. Supreme Court case that establishes the individual right to be free from police stops without suspicion of a crime.
When the police stop you, they can only keep you for the time needed to handle the reason they stopped you in the first place. The police can only change topics or hold you to investigate new questions in limited circumstances.
For example, if they stop you for a routine traffic matter, and then see drugs on the floor of your vehicle, they can investigate. However, they can't keep you until a drug-sniffing dog arrives if they have no suspicion whatsoever. It's illegal to go on a fishing expedition during a police stop.
The police can't stop you because of your race, gender, how you're dressed or the fact that you're in a high crime area.
The police can't conduct stops based on how people look or other kinds of prejudice. If they suspect you of a crime, they can stop you. However, if they stop you because of race and other biases, it is an illegal police stop.
At times, some police might be convinced that something is true and want to investigate it further.
However, it's illegal for the police to stop people based on a hunch. They have to be able to explain a valid reason for the stop. Explanations like "I just knew," or "based on my years of experience…" are insufficient. A simple hunch is an impermissible reason for a police stop.
People who are known to law enforcement may make unfair targets for police.
The police may want to stop and harass a person just because they're recognizable to law enforcement. While the police can run your license plate while driving, they can't stop you just because you have a criminal history. Of course, this is different when you're on probation or parole. However, once you've served your sentence, it's a fresh slate.
Turn on your local news during the holiday, and you might find a feel-good story about the police. For example, they may stop motorists to give them a turkey or a Christmas gift. Even though it might seem like a nice gesture, the truth is that the police cannot stop a motorist without a reason related to law enforcement.
If they have a reason to believe that you committed a traffic offense, they can surprise you with a turkey instead of a ticket. However, they cannot stop a law-abiding motorist without suspicion of a traffic violation.
Anonymous tips generally cannot be the basis for a police stop.
That's because the police may not have the specifics that they need to evaluate the information. Also, they don't have a way to assess the credibility of the tipster. Sometimes, an anonymous tip can be enough, but it has to be more information than just identifying the person. An anonymous tip must be reliable, and it must be more than an accusation.
In Florida v. J.L. (2000), the police received an anonymous tip that a man at a bus stop had a gun. They didn't have any independent suspicion that the man was committing a crime, but they frisked the man anyway and found the unlicensed weapon. However, the courts concluded that an anonymous tip of that nature was insufficient to sustain a criminal charge.
It might seem unbelievable that the police would stop vehicles just to get an extra day of vacation, but it's been done.
It's illegal for the police to get incentives, like a day off work or a gift card, for the number of tickets or stops they make. That kind of incentive program gives the police a strong bias and inappropriate motivation to do their work. If the police stop you because they've been promised something for doing it, it's an impermissible police stop.
Are You Allowed to Walk Away From a Police Officer?
Yes, you are allowed to walk away from a police officer if you are not detained under reasonable suspicion of committing an offense and if the police don't have a warrant for your arrest. You don't have to stay and answer questions if you're a witness or if the police just want to make small talk.
Some states have stop and identify laws, so you may have to give your name to the police if they suspect you of committing a crime. In general, if you are under no suspicion, you are allowed to walk away from a police officer.
What to Do if You're the Victim of an Impermissible Police Stop
If you're the victim of an impermissible police stop, you can take action. You may be able to suppress the evidence gathered against you if you receive a traffic ticket or a criminal charge. That may result in dismissal of the case. Also, you may be able to file a legal claim in order to hold law enforcement accountable for their actions.
If you believe that you were the victim of an impermissible police stop, contact our team of personal injury lawyers today for your free consultation.
Legal Disclaimer
This webpage is not intended to be an advertisement or solicitation. The hiring of a lawyer is an important decision that should not be based solely upon advertisements. Material contained in our website is for general information only and does not constitute legal advice or solicitation of legal services.
Transmission of information from this site is not intended to create, and its receipt does not constitute, an attorney-client relationship between Adam S. Kutner and the user of this site. In the event that any information on this web site does not conform fully with regulations in any jurisdiction, this law firm will not accept representation based on that information.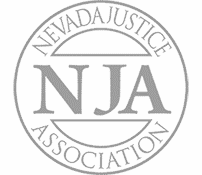 Adam Kutner es uno de los 100 mejores abogados litigantes con experiencia y conocimientos que lo beneficiarán
Llámenos hoy al (702) 382-0000 en cualquier momento para programar una consulta gratuita. Trabajaremos para conseguirle la máxima liquidación lo antes posible.
Conozca a más abogados asociados
Adam Kutner Reviews & Testimonials
"We were in a car accident – we were coming off of the interstate and were waiting – yielding at the exit and a car sped through the exit and smacked us in the rear.
It was definitely scary especially because we had our baby in the car. My husband and I and our baby in the back seat. We definitely – immediately went back in and checked on her to make sure she was okay.
We definitely had back pains my daughter had headaches. She kept holding her head and crying. It was pretty bad.
I remember seeing a couple billboards and a friend of mine did say they had a pleasant experience with Adam Kutner, so we called them right up.
They definitely were thorough, and you could tell just by talking to the people in the office that they genuinely cared about their clients.
They contacted us saying you know, explain the process on how the settlement gets done and about a week after that happened we had our settlement which was great and in my opinion Adam S. Kutner is the best attorney in Las Vegas."
– Janae Reynolds. 5/5 Stars
Real Client Testimonial: Janae Reynolds
START YOUR FREE CONSULTATION
NO FEES UNLESS WE WIN!
Home Visits Are Available
Call Now for Details