How Insurance Companies Inspect Accident Claims
Unless you work in the insurance industry, filing an insurance claim can be a confusing process. You might wonder what the insurance company does behind the scenes as they evaluate your claim. Knowing what the insurance company is up to can help give you peace of mind as you wait for your case to resolve.
It can also help you make sure that you and your car accident attorney are doing everything that you can to resolve your claims fairly. Here's more information about how insurance companies inspect accident claims.
START YOUR FREE CONSULTATION
NO FEES UNLESS WE WIN!
The Investigation Process Begins When you Make a Claim
A claim begins when you contact your insurance company. You use a form on their website, or you call the company to report the claim. The insurance company assigns someone to the case. Their representative is called an adjuster. The adjuster contacts you to ask for more information.
The Adjuster Asks You for Information
When you hear from the insurance company, expect them to start by asking you what happened. They want a summary of how the accident occurred and will likely want to ask follow-up questions. The insurance adjuster may also ask you for additional information including any of the following:
The police accident investigation report
A police report if the police generate one
Photos that you took at the scene
Any additional images
The adjuster may want to look at your vehicle
Copies of your medical records and bills
A release to look at your medical records
You Must Give Complete Information About Your Losses
When you work with the insurance adjuster, they need to know what damages you're claiming. If you have damage to your vehicle or other property, let them know.
If you have personal injuries, you're going to need to tell them about your medical bills. It's ok if you don't have complete information right away. You should familiarize yourself with the types of losses that you can claim to make sure that you don't leave anything out.
The Adjuster May Contact the Other Driver and Witnesses
The insurance adjuster may want to talk to others involved in the case. They might contact the other driver and any witnesses. The insurance adjuster wants to know if their version of the accident matches yours.
The Adjuster May Visit the Accident Scene
If they believe it would be helpful, the insurance adjuster may visit the accident scene. The visit may help the adjuster answer questions about how the accident occurred, and it can help them create a clear picture of the case. Usually, the insurance adjuster doesn't travel to the scene of an accident unless fault isn't apparent or it's a severe accident.
Your Medical Reports and a Medical Evaluation
The insurance adjuster might ask you to go for a medical examination with a doctor they choose. It's called an independent medical examination, but it's really not independent because the person who gives you the examination works for the insurance company.
The insurance company may want your medical records to evaluate your injuries. If they begin to ask questions about the nature and extent of your injuries, it's time to ask for an attorney to help you respond to their requests.
The Adjuster Makes a Preliminary Determination of Fault and Payment
Once the claims adjuster reviews all of the information that they think is helpful, they make a preliminary determination of fault. They complete a report. They may take modified comparative negligence into account when they make their decision.
The insurance adjuster looks at the policy or policies that may apply to the case. If there's an insurance policy that covers the damages based on the way the accident occurred, the insurance adjuster approves payment up to policy limits.
You Can Begin Repairs Immediately
You can begin making repairs even while the claims process is ongoing. The insurance company may have a preferred body shop for vehicle repairs, or you may be able to get quotes from a few body shops of your choice. You can use the body shop you want, but the insurance company may disagree with you about the price of the repairs.
What If I Disagree with the Insurance Company's Decision?
If you disagree with the insurance adjuster's decision, there are things that you can do. You can provide more information to the insurance adjuster and ask them to review their decision. You can also ask a supervisor to review the adjuster's decision. You can send a formal demand letter to the insurance company or begin formal litigation proceedings.
How Long Does an Insurance Claim Investigation Take?
In a simple case, the insurance claim investigation process may be over in a few short weeks. In complicated cases, it can take several months. Each company has their own unique method for investigating a claim. Even within a company, the investigation process depends on the severity of the accident and the complexity of the issues in the claim.
Why Do I Have to Prove My Case to the Insurance Company? Shouldn't They Just Pay?
It can sometimes feel like the insurance company is making you prove your case. It can be frustrating when it feels like the insurance company is not on your side. Unfortunately, some people try to commit fraud with insurance.
The FBI says that insurance fraud increases premiums for each family by $400 to $700 per year. It may be routine practice for the insurance company to put extra efforts into each investigation to prevent fraud. However, if the insurance company is willfully dragging their feet, or if they've denied a valid claim, you have rights. The insurance company may face penalties for denying your claim in bad faith.
How Can A Car Accident Attorney Help?
If you're making an insurance claim, you will want to work with an experienced lawyer to ensure the best outcome possible. Your attorney will help you ask for all of the types of damages you deserve and will help streamline the process.
Your attorney will also use their expertise to skillfully negotiate with the insurance company to get you the maximum settlement possible. They will also help make sure your claim is not denied in bad faith.
Legal Disclaimer
This webpage is not intended to be an advertisement or solicitation. The hiring of a lawyer is an important decision that should not be based solely upon advertisements. Material contained in our website is for general information only and does not constitute legal advice or solicitation of legal services.
Transmission of information from this site is not intended to create, and its receipt does not constitute, an attorney-client relationship between Adam S. Kutner and the user of this site. In the event that any information on this web site does not conform fully with regulations in any jurisdiction, this law firm will not accept representation based on that information.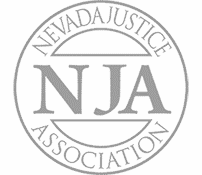 Adam Kutner es uno de los 100 mejores abogados litigantes con experiencia y conocimientos que lo beneficiarán
Llámenos hoy al (702) 382-0000 en cualquier momento para programar una consulta gratuita. Trabajaremos para conseguirle la máxima liquidación lo antes posible.
Conozca a más abogados asociados
Adam Kutner Reviews & Testimonials
"We were in a car accident – we were coming off of the interstate and were waiting – yielding at the exit and a car sped through the exit and smacked us in the rear.
It was definitely scary especially because we had our baby in the car. My husband and I and our baby in the back seat. We definitely – immediately went back in and checked on her to make sure she was okay.
We definitely had back pains my daughter had headaches. She kept holding her head and crying. It was pretty bad.
I remember seeing a couple billboards and a friend of mine did say they had a pleasant experience with Adam Kutner, so we called them right up.
They definitely were thorough, and you could tell just by talking to the people in the office that they genuinely cared about their clients.
They contacted us saying you know, explain the process on how the settlement gets done and about a week after that happened we had our settlement which was great and in my opinion Adam S. Kutner is the best attorney in Las Vegas."
– Janae Reynolds. 5/5 Stars
Real Client Testimonial: Janae Reynolds
START YOUR FREE CONSULTATION
NO FEES UNLESS WE WIN!
Home Visits Are Available
Call Now for Details