10 Driving Tips To Survive in Las Vegas
Rules for driving in Las Vegas are good to know whether you're a tourist or you've lived here your whole life. Some Las Vegas driving laws are common sense, and other rules you might not have heard before.
Our Las Vegas car accident attorneys and members of our entire legal team give you our 10 tips for safe driving in Las Vegas.
START YOUR FREE CONSULTATION
NO FEES UNLESS WE WIN!
1. Follow the Speed Limits
Most people try to leave Las Vegas with more money than they came with. Don't lose your hard-earned cash to a speeding ticket. Speed limits within the city are 25-35 miles per hour. On Nevada highways outside the city, the speed limits range from 65-70. Speed limits are strictly enforced in Las Vegas, particularly where there are a lot of pedestrians, such as the Las Vegas Strip. Be sure to follow Las Vegas speed limits at all times.
RELATED: Increase in Car Accidents Linked to Speeding
2. It's All Right to Turn Right on Red
In general, turning right on red is legal in the City of Las Vegas. If you're stopped at a light and you have a clear path to turn right, you're welcome to take it.
However, be sure to check whether there's a sign that says right on red is not allowed at that specific intersection. You must also make a full stop before pulling forward to make a right turn on a red light.
3. Don't Drink and Drive
Drunk driving is illegal in the City of Las Vegas and throughout Nevada. The legal limit is .08 for any kind of driving under the influence of alcohol. For underage drivers, the legal limit is .02. A drunk driving conviction can result in jail time, fines, loss of your driver's license, community service and mandatory treatment programs. Your record can also follow you back to your home state, so keep that in mind while visiting.
Given the nature of the city, Las Vegas law enforcement is very strict with this rule. Try going with an alternative, such as walking, taxi, public transportation or ride-sharing.
4. Driving After Marijuana Use Is Illegal, Too
Don't try driving a motor vehicle after you smoke marijuana. Nevada is one of several states that has a black and white line for driving with an unlawful bodily content of marijuana. You're guilty of driving with an illegal amount of marijuana in your system any time you have 2+ ng/ml of the active ingredient or 5+ ng/ml of the metabolite in your body.
Of course, any amount of marijuana in your system is illegal if it influences your ability to drive. Driving with bodily marijuana content in your system counts as a drunk driving offense in Nevada. You face jail, fines and all the other possible penalties for the offense.
RELATED: What If a Driver Hits Me While High?
5. There's a Place to Park and Watch Planes
The lot is the best-kept secret for locals and aviation enthusiasts around the world!
In Las Vegas, there are several spots where you can park and watch airplanes fly overhead as they come in and out of McCarran Airport.
You can find the best lot on Sunset Road just west of Eastern Avenue, where you'll get great views of the planes as they land and take off every few minutes. Here is a video of it:
6. Handicapped Parking Is for Handicapped Drivers
If you have an extra $250 lying around, by all means, park in a handicapped spot. That's just the fine in the City of Las Vegas. In Henderson, a handicapped parking violation sets you back $352.
Las Vegas doesn't mess around with handicapped parking laws. You need to have a disabled placard in order to use a handicapped parking space. If you have a placard from another state, Las Vegas will honor it. Just make sure that it's out and visible before you leave your vehicle.
7. You Can Still Find Free Parking
Some casinos charge for parking, particularly on the Strip. If you do your research and you don't mind a few extra steps to get to your destination, you can still find free parking!
When you research your parking options, remember that some of the smaller casinos just off the Strip still offer free parking. You may also be able to get your parking validated by spending a minimum amount in the casino or at the property's restaurants.
8. Pause for Pedestrians
Las Vegas is a pedestrian-friendly town. It's a place where millions of people come each year for vacation. As you drive through town, remember to expect to see pedestrians in the streets.
Many of those pedestrians are from out of town, and they might not be used to the local rules of the road. Be careful, for everyone's sake.
RELATED: How Drivers Can Spot and Avoid Collisions With Pedestrians
9. Fill Up Before You Leave Town
There are lots of gas stations in Las Vegas. However, there are not so many gas stations just outside of Las Vegas. If you're planning on taking a road trip out of the city, you're going to want to fill up before you go.
Also, if you're headed to California, that's another reason to get gas before you leave town. Our gas prices tend to be cheaper than they are in California, which is only 30 minutes from Las Vegas.
10. Nevada Is an At-Fault State
If you're in a car accident in Las Vegas, Nevada car accident laws apply. Nevada is an at-fault state, which means you may deserve financial compensation for an accident of any severity.
Call our Las Vegas car accident attorneys for your free consultation. Our experienced legal team will help you get the compensation you deserve for your injuries.
Legal Disclaimer
This webpage is not intended to be an advertisement or solicitation. The hiring of a lawyer is an important decision that should not be based solely upon advertisements. Material contained in our website is for general information only and does not constitute legal advice or solicitation of legal services.
Transmission of information from this site is not intended to create, and its receipt does not constitute, an attorney-client relationship between Adam S. Kutner and the user of this site. In the event that any information on this web site does not conform fully with regulations in any jurisdiction, this law firm will not accept representation based on that information.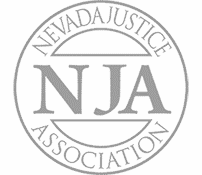 Adam Kutner es uno de los 100 mejores abogados litigantes con experiencia y conocimientos que lo beneficiarán
Llámenos hoy al (702) 382-0000 en cualquier momento para programar una consulta gratuita. Trabajaremos para conseguirle la máxima liquidación lo antes posible.
Conozca a más abogados asociados
Adam Kutner Reviews & Testimonials
"We were in a car accident – we were coming off of the interstate and were waiting – yielding at the exit and a car sped through the exit and smacked us in the rear.
It was definitely scary especially because we had our baby in the car. My husband and I and our baby in the back seat. We definitely – immediately went back in and checked on her to make sure she was okay.
We definitely had back pains my daughter had headaches. She kept holding her head and crying. It was pretty bad.
I remember seeing a couple billboards and a friend of mine did say they had a pleasant experience with Adam Kutner, so we called them right up.
They definitely were thorough, and you could tell just by talking to the people in the office that they genuinely cared about their clients.
They contacted us saying you know, explain the process on how the settlement gets done and about a week after that happened we had our settlement which was great and in my opinion Adam S. Kutner is the best attorney in Las Vegas."
– Janae Reynolds. 5/5 Stars
Real Client Testimonial: Janae Reynolds
START YOUR FREE CONSULTATION
NO FEES UNLESS WE WIN!
Home Visits Are Available
Call Now for Details