Las Vegas Taxi Car Accidents
The Las Vegas taxi industry generates 27.5 million in revenue each year. In other words, taxis are big business. However, Clark County taxi drivers get more than 3,419 traffic tickets each year, so it's fair to say that they cause their share of accidents on Las Vegas roads.
When you're in an accident with a taxi in Las Vegas, it's important to know your legal rights and possibly work with an experienced car accident attorney to build your claim for compensation. Here's what you should know about liability for a taxi accident.
START YOUR FREE CONSULTATION
NO FEES UNLESS WE WIN!
Nevada Taxi Laws
All Nevada taxi companies have to carry insurance in case they're in an accident. Nevada law 706.305 requires taxi companies to have $250,000 of insurance per person for bodily injury, $500,000 total for bodily injury and $50,000 in property damage. Generally, the at-fault driver pays for the damages. That means if the taxi driver causes the accident, they're on the hook for your damages whether you're a passenger in the taxi or you're in the other vehicle.
Taxi companies aren't required to carry insurance for uninsured and underinsured motorists. That means if you're the passenger in the taxi and the other driver is at fault, the taxi company may not have an insurance policy to cover your losses. Most rideshare companies like Uber and Lyft offer this insurance.
If the other driver is at fault, you should try to recover from the at-fault driver or look to your own coverage to see if there's uninsured or underinsured coverage that may apply to you. In addition, remember that comparative negligence laws may apply. You can still recover from the taxi company for some of your losses if both the taxi driver and the other driver share fault for the accident.
A Taxi Company Can Be Negligent in the Way They Care for Their Vehicles
Even if the taxi driver doesn't cause the car crash, there are other ways that the taxi company may have been negligent that can make them legally responsible for your injuries. Taxi drivers have strict requirements when it comes to preparing a vehicle for service. Nevada law 706.8837 says that they must do all of the following before putting a vehicle into service:
Make sure the steering mechanics work properly
Check for loose bolts and other loose parts
Fix broken hinges or latches
Ensure it's easy to open and close the doors
Keep advertising from distracting the driver
Check for cracks in the windows
Try the brakes and the horn
Maintain the exhaust system in good condition
Use good tires
Clean the interior of the vehicle
Make sure all the signals work
Comply with federal and state pollution standards
If the taxi company doesn't do any of these things, they may have contributed to your injuries even if the driver's actions didn't lead to the crash. Your injuries may be worse than they might have been if they had taken the time to care for their vehicle properly. You may not even know whether one of these situations applies to you.
Negligent Hiring
Another way that the taxi company may be legally liable for your injuries is because of negligent hiring. Taxi drivers are usually employees of the companies they work for instead of independent contractors. That means it's up to the taxi company to make sure that they hire qualified people.
Nevada law 706.453 requires taxi companies to hire safe drivers. Drivers must have a current and valid license and a medical check. The taxi company must also perform background checks on all employees.
If they hire someone that they know isn't going to be a safe driver, or if they retain a driver who shows warning signs, the taxi company can be liable for negligent hiring practices if you're hurt as a result of the driver's actions. Your attorney can help you evaluate the driver and the company's actions to determine whether the company acted negligently to hire or retain the taxi driver.
How Do Taxis Compare to Uber and Lyft?
Taxis have been around for decades, while Uber and Lyft are relatively new. That means taxi laws have been in place for a long time, and Uber and Lyft laws are racing to catch up. Nevada Revised Statutes Chapter 706 governs taxi drivers. Some of Nevada's taxi laws are as old as 1971. On the other hand, Chapter 706A governs other transportation companies like Uber and Lyft. The legislature enacted many of the laws in Chapter 706A in 2015.
Taxi drivers carry different insurance amounts than ride-sharing services. Nevada law requires taxi drivers to have $500,000 in insurance, while Uber and Lyft cover drivers up to $1,000,000. However, a victim can typically recover from a taxi company any time they're in an accident involving a taxi driver.
With ride-sharing companies, you're typically only covered when the driver is giving someone a ride. The $1,000,000 policy applies during a ride, but there are much smaller insurance policies that may apply if a rideshare driver is in their vehicle but waiting for a customer.
Working With a Car Accident Attorney
Whether you're the driver of the other vehicle or a passenger in the taxi, you may be able to recover for your losses if you are injured in a car accident with a taxi.
Working with an attorney gives you the best chance of using the facts of your case to get the compensation you need. Your lawyer can help you determine how the law applies to you and build a plan for a successful recovery.
Legal Disclaimer
This webpage is not intended to be an advertisement or solicitation. The hiring of a lawyer is an important decision that should not be based solely upon advertisements. Material contained in our website is for general information only and does not constitute legal advice or solicitation of legal services.
Transmission of information from this site is not intended to create, and its receipt does not constitute, an attorney-client relationship between Adam S. Kutner and the user of this site. In the event that any information on this web site does not conform fully with regulations in any jurisdiction, this law firm will not accept representation based on that information.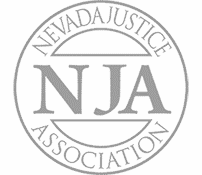 Adam Kutner es uno de los 100 mejores abogados litigantes con experiencia y conocimientos que lo beneficiarán
Llámenos hoy al (702) 382-0000 en cualquier momento para programar una consulta gratuita. Trabajaremos para conseguirle la máxima liquidación lo antes posible.
Conozca a más abogados asociados
Adam Kutner Reviews & Testimonials
"We were in a car accident – we were coming off of the interstate and were waiting – yielding at the exit and a car sped through the exit and smacked us in the rear.
It was definitely scary especially because we had our baby in the car. My husband and I and our baby in the back seat. We definitely – immediately went back in and checked on her to make sure she was okay.
We definitely had back pains my daughter had headaches. She kept holding her head and crying. It was pretty bad.
I remember seeing a couple billboards and a friend of mine did say they had a pleasant experience with Adam Kutner, so we called them right up.
They definitely were thorough, and you could tell just by talking to the people in the office that they genuinely cared about their clients.
They contacted us saying you know, explain the process on how the settlement gets done and about a week after that happened we had our settlement which was great and in my opinion Adam S. Kutner is the best attorney in Las Vegas."
– Janae Reynolds. 5/5 Stars
Real Client Testimonial: Janae Reynolds
START YOUR FREE CONSULTATION
NO FEES UNLESS WE WIN!
Home Visits Are Available
Call Now for Details