Psychological Effects of a Car Accident
The psychological effects of a car accident can be as traumatic or even more traumatic than physical injuries. The emotional effects of a car accident can have a significant impact on your daily life. Nevada law for psychological injuries in car accidents allows victims to claim compensation for the suffering they experience and the associated treatment costs for their psychological injuries.
It may be tempting to focus on only the physical injuries that you sustain in a car accident. But addressing your mental injuries and suffering is key to helping you make a full recovery from your injuries. To recover fully from your crash, you may need to work with a Las Vegas car accident lawyer to accurately value your claim. Learn more about emotional injuries and car accidents here.
START YOUR FREE CONSULTATION
NO FEES UNLESS WE WIN!
Psychological Injuries From a Car Accident Are Genuine Injuries
Don't let the insurance company or anyone else downplay your psychological injuries. Emotional injuries are legitimate injuries. Even though you can't see them, mental injuries after a car accident can interfere with your daily living as much as or even more than physical injuries.
Things like driving a car, loud noises or even sleeping can suddenly seem impossible even though they were easy before your accident. These difficulties are tragically common after a car accident, and they are authentic.
You May Receive Compensation for Your Psychological Injuries
Nevada law recognizes psychological injuries as a category of damages that you may sustain in a car accident. The law accepts and acknowledges that psychological injuries can be devastating for car accident victims.
You may deserve compensation for these injuries in addition to all other categories of compensation that you may deserve when you're the victim of a car accident in Las Vegas.
It's Important to Treat Mental Injuries Just Like You Treat Physical Injuries
When you suffer physical injuries in a car accident, you seek medical treatment to resolve them. You don't just simply hope they go away without medical care. It's also important to treat your psychological injuries with the appropriate mental health care.
Receiving treatment for your psychological injuries is essential to take steps towards recovery as well as for documenting your injuries to receive fair compensation for the accident.
Some of the types of psychological injuries that you may receive compensation for after a Nevada car accident include:
Post-traumatic stress disorder (PTSD)
Repeatedly reliving the trauma of the crash
Anxiety
Triggers like loud noises or flashes
Shame, fear or crying
Interrupted sleep – frequently waking up, difficulty falling asleep or nightmares
Loss of interest in activities that you used to enjoy
Careless and reckless behaviors
Guilt
Being easily startled
Phobias of driving or other activities
Emotional withdraw
Depression
Compensation that you may deserve for psychological injuries after a car accident may include both the cost of the treatment itself as well as compensation for the fact that you have to endure the suffering created by mental injuries. Our attorneys can help you value your claim.
You Can Document Your Psychological Injuries
It's important to document your psychological injuries by working with mental health care professionals. Whether you work with a counselor, psychologist or other mental health care professional, they can help you verify your injuries and document them for your claim. We can help you find the right health care professional to identify and document the psychological injuries that you sustain in the accident. Your care professional may even testify in court on your behalf.
Identifying your injuries is the first step in treating them. In addition, a mental health care professional can gather the right information to verify your injuries from a legal standpoint to successfully demand compensation. We work with psychological injury experts in Las Vegas to document your mental injuries and present the information effectively as part of a complete legal strategy in your case.
Proving Your Claim for Compensation for Psychological Injuries
Generally, your psychological injuries should be proportional to your physical injuries. If you sustain significant physical injuries in a car crash, the other party should accept that you also have emotional and mental injuries.
If you claim severe psychological injuries after a fender bender, you can expect the other party and the jury to be more skeptical. Even so, your mental health injuries are unique to you. You can include any mental or emotional injuries that you sustain as part of your claim.
Mental Anguish and Pain and Suffering Are Two Different Things
Even though they sound a lot alike, mental anguish damages and pain and suffering damages are two different things. Psychological damages or mental anguish damages include psychological difficulties that you suffer because of the accident.
On the other hand, pain and suffering damages compensate you for the physical pain and physical anguish associated with being in a crash. Even though the two are similar, it's important to remember that they're not the same thing, and you may request compensation for both categories of damages. Your skilled Las Vegas car accident attorney can help you evaluate your claim to include all of the types of damages that you may deserve.
You Have a Right to Fair Payment
You don't have to take the insurance company's word for it about the value of your psychological injuries. If you're not sure if the insurance company is making a fair offer of compensation for your psychological injuries after a Nevada car accident, you have a right to take your case to trial.
You can present the evidence to the jury to ask them to order the insurance company and the responsible driver to compensate you fairly. In addition to trial by jury, we can help you negotiate with the other party for resolution of your claim.
We Can Help You Seek Compensation for the Psychological Effects of a Car Accident
Do you have psychological injuries? Contact our skilled legal team today. We have the training, experience and drive to help you document your psychological injuries and pursue a claim for compensation.
Our goal is to empower you to understand how Nevada law applies to your case and harness the legal process to help you receive the compensation that you deserve. Contact us today for a complimentary consultation about your claim.
Legal Disclaimer
This webpage is not intended to be an advertisement or solicitation. The hiring of a lawyer is an important decision that should not be based solely upon advertisements. Material contained in our website is for general information only and does not constitute legal advice or solicitation of legal services.
Transmission of information from this site is not intended to create, and its receipt does not constitute, an attorney-client relationship between Adam S. Kutner and the user of this site. In the event that any information on this web site does not conform fully with regulations in any jurisdiction, this law firm will not accept representation based on that information.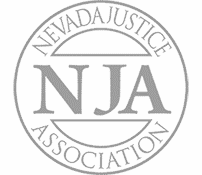 Adam Kutner es uno de los 100 mejores abogados litigantes con experiencia y conocimientos que lo beneficiarán
Llámenos hoy al (702) 382-0000 en cualquier momento para programar una consulta gratuita. Trabajaremos para conseguirle la máxima liquidación lo antes posible.
Conozca a más abogados asociados
Adam Kutner Reviews & Testimonials
"We were in a car accident – we were coming off of the interstate and were waiting – yielding at the exit and a car sped through the exit and smacked us in the rear.
It was definitely scary especially because we had our baby in the car. My husband and I and our baby in the back seat. We definitely – immediately went back in and checked on her to make sure she was okay.
We definitely had back pains my daughter had headaches. She kept holding her head and crying. It was pretty bad.
I remember seeing a couple billboards and a friend of mine did say they had a pleasant experience with Adam Kutner, so we called them right up.
They definitely were thorough, and you could tell just by talking to the people in the office that they genuinely cared about their clients.
They contacted us saying you know, explain the process on how the settlement gets done and about a week after that happened we had our settlement which was great and in my opinion Adam S. Kutner is the best attorney in Las Vegas."
– Janae Reynolds. 5/5 Stars
Real Client Testimonial: Janae Reynolds
START YOUR FREE CONSULTATION
NO FEES UNLESS WE WIN!
Home Visits Are Available
Call Now for Details