Railroad Crossing Car Accidents
Railroad crossing car accidents cause significant personal and economic damage. There are several reasons that a railroad crossing car accident may occur, including poor train operation and inadequate road signs. Victims of railroad crossing car accidents may deserve financial compensation. There are several factors and things to understand when pursuing your claim. Our Las Vegas car accident lawyers explain.
START YOUR FREE CONSULTATION
NO FEES UNLESS WE WIN!
What Causes Most Railroad Crossing Crashes?
Most railroad crossing crashes have the following causes:
Speeding trains – Just like cars, trains have speed limits, especially in cities and other highly populated areas.
Unprotected crossings – Drivers and pedestrians need clear instructions about where train crossings are and how much room to leave for their safety.
Human error – Train conductors can make honest mistakes about their speed, right of way, and path of travel. They may also fail to give appropriate warning signals.
Pedestrian and driver negligence – When a driver or pedestrian tries to outrun the train, the result can be a railroad crossing crash.
Can You Sue a Train Company?
Yes, you can sue a train company. The train company has a duty to operate safely and with due care for the well being of other persons and property, just like any other business or entity. This also applies to passenger trains, not just commercial and industrial trains. If a government body runs the train company, the standards may be different for what you can recover and how to file your claim. However, typically, regardless of the ownership of the company, you can sue a train company if you're hurt by negligence.
What Are the Effects of Rail Accidents?
There are multiple effects of rail accidents, including:
Personal injury – Rail accidents result in physical harm to victims, including victims riding on the train, people in motor vehicles, and pedestrians.
Property damage – Damage can occur to vehicles, surrounding objects, to the train itself, and to the property of individuals who are riding on the train.
Cargo damages – A lot of today's rail travel is transporting cargo. Cargo can be damaged during rail travel resulting in expensive insurance claims.
Toxic substance release – Rail cargo may be flammable or toxic. When a crash occurs, these substances may be released into the environment.
Economic damage – A rail crash stalls the economy by creating delays for travelers who need to conduct business. In addition, rail crashes may cause economic damage by preventing goods from reaching their destination.
What Happens If a Train Hits a Car?
What happens if a train hits a car is that all of the parties involved should seek emergency services as quickly as possible. Government authorities should respond to investigate the crash. The car driver may receive a traffic citation, but it depends on why the crash occurs.
If a train hits a car, and the collision causes any personal injuries, including to people on the train and in the car, the injured victims may claim financial compensation. The legal claim is based on the negligence of the parties that cause the crash.
Railroad Crossing Car Accident Lawsuits
Railroad crossing car accident lawsuits are legal claims for compensation based on railroad crossing car accidents. A car and train accident is a motor vehicle traffic matter. However, it is also a general negligence matter. It might seem like since the train is bigger, it's always the driver's obligation to avoid the train.
However, there are still important rules that apply to train operation in the United States. Train operators have many rules to follow, including speed, right of way, use of tracks, and warning signals as they approach crossings. When a railroad company operates their business negligently, and harm results to a victim, the victim may deserve financial compensation.
How Can a Railroad Crossing Car Accident Attorney Help?
A railroad crossing car accident attorney can help you because they understand how to evaluate and pursue your case. Several unique factors apply to railroad crossing car accident cases. Your attorney helps you with all of the relevant considerations, including:
What company owns the train? Are they the only company responsible for its safe operation? Was there a third party involved in controlling train traffic or providing personnel to operate the train?
Why did the accident occur? Was it the train operator's fault? Why or why not?
Were there operating standards and procedures that the train company failed to follow, in any areas of its operation?
Is a government entity involved? If so, what special things might come into play when handling the claim for compensation? For example, is there a pre-suit notice requirement? Is the statute of limitations shorter? Are there damage limitations?
What court has jurisdiction over the case? How is the law that applies to the case different in each jurisdiction where the victim could bring their case?
What is the value of damages for the victim? For each category of damages, what is the total amount, and what is necessary to prove it?
What legal hurdles might prevent the victim from receiving the recovery that they deserve? How can they respond to those challenges in the most appropriate ways?
How can the victim handle the legal claim in the most expeditious, hassle-free way possible?
Is there anything else the victim can or should do to receive the best possible result for their railroad accident claim?
As you can see, an experienced attorney for railroad crossing car accidents provides comprehensive services throughout your case. They know what legal issues to identify and how to aggressively pursue fair compensation on your behalf.
Contact Our Las Vegas Car Accident Lawyers If You Have Been in an Accident at a Railroad Crossing
Do you need an attorney for a railroad crossing car accident? You deserve the best. At Adam S. Kutner, Attorney at Law, we believe that all railroad crossing car accident victims deserve aggressive, passionate legal representation.
Let us be your advocates while we fight for the compensation that you deserve. Don't leave it to chance. Let our attorneys show you how you can receive fair compensation for your railroad crossing car accident. Call us today.
Legal Disclaimer
This webpage is not intended to be an advertisement or solicitation. The hiring of a lawyer is an important decision that should not be based solely upon advertisements. Material contained in our website is for general information only and does not constitute legal advice or solicitation of legal services.
Transmission of information from this site is not intended to create, and its receipt does not constitute, an attorney-client relationship between Adam S. Kutner and the user of this site. In the event that any information on this web site does not conform fully with regulations in any jurisdiction, this law firm will not accept representation based on that information.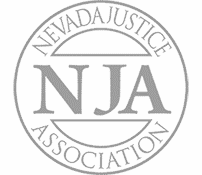 Adam Kutner es uno de los 100 mejores abogados litigantes con experiencia y conocimientos que lo beneficiarán
Llámenos hoy al (702) 382-0000 en cualquier momento para programar una consulta gratuita. Trabajaremos para conseguirle la máxima liquidación lo antes posible.
Conozca a más abogados asociados
Adam Kutner Reviews & Testimonials
"We were in a car accident – we were coming off of the interstate and were waiting – yielding at the exit and a car sped through the exit and smacked us in the rear.
It was definitely scary especially because we had our baby in the car. My husband and I and our baby in the back seat. We definitely – immediately went back in and checked on her to make sure she was okay.
We definitely had back pains my daughter had headaches. She kept holding her head and crying. It was pretty bad.
I remember seeing a couple billboards and a friend of mine did say they had a pleasant experience with Adam Kutner, so we called them right up.
They definitely were thorough, and you could tell just by talking to the people in the office that they genuinely cared about their clients.
They contacted us saying you know, explain the process on how the settlement gets done and about a week after that happened we had our settlement which was great and in my opinion Adam S. Kutner is the best attorney in Las Vegas."
– Janae Reynolds. 5/5 Stars
Real Client Testimonial: Janae Reynolds
START YOUR FREE CONSULTATION
NO FEES UNLESS WE WIN!
Home Visits Are Available
Call Now for Details