8 Things To Plan for When in an Uber/Lyft Accident
In today's world, many people choose to use Uber or Lyft to get around town. And if you're like most people, you've never been in an accident while using one of these rideshare services. But what would you do if you were involved in an accident while using Uber or Lyft? Our Las Vegas car accident lawyer team shares some things to plan for if it happens to you.
START YOUR FREE CONSULTATION
NO FEES UNLESS WE WIN!
1. Get to a Safe Place
The first thing you should do if you're involved in an accident while using Uber or Lyft is to get to a safe place. Most accidents occur in the middle of the road, so getting out of the way of oncoming traffic is a top priority to avoid further accidents or injuries.
Hurt in a rideshare accident in Las Vegas? Contact our team of car accident attorneys for a free consultation today.
2. Seek Medical Attention
If you're injured in an accident, it's important to seek medical attention as soon as possible. Even if your injuries seem minor, it's always best to get them checked out by a healthcare professional. Many injuries, such as whiplash, may not present symptoms until days or weeks after the accident. So, it's vital to get a medical evaluation after an accident.
It also helps create a medical record of your injuries, which will be crucial if you need to file an insurance claim or personal injury lawsuit.
3. Call 911
After any kind of accident, you should always call 911 whether you're in an Uber or not. The police will come to the scene and make a report, which is crucial when filing an insurance claim.
Additionally, they protect everyone's legal rights and prevent false claims by the driver at fault. If anyone at the accident site is injured, you should ensure the dispatch operator knows so that they can send paramedics as well.
4. Get the Rideshare Driver's Information
Once you're in a safe place and have contacted the police, you should get the driver's information. The crucial details include:
Name
Phone number
Insurance company
Policy numbers
The rideshare driver's license plate number
Car make and model
The car's registration number
You can use this information to file an insurance claim or, if necessary, to hire a car accident lawyer. Additionally, the police report will include this information, so it's essential to have it regardless.
5. Get Witness Information and Take Photos
If there are any witnesses to the accident, get their contact information. Their testimony could be beneficial if there's a dispute. It's also a good idea to take photos of the accident scene, the damage to the car, and any injuries you sustained. You can use these images as evidence in your insurance claim or personal injury lawsuit.
Don't settle for unfair insurance claim offers. Our Las Vegas personal injury lawyers can fight for you. Contact us today.
6. File a Claim With Your Insurance Company
After a rideshare accident or any type of motor vehicle accident, you should file a claim with your insurer if you have car insurance. Your own policy's coverage can help you get compensation for things you need, including medical treatment and property damage.
However, check with your insurance company to see what you can claim. When personal auto insurance doesn't cover all your losses, the rideshare company's insurance can help.
7. Report the Accident to Uber or Lyft
If you are using Uber or Lyft, there are some things you need to know. First, rideshare companies carry liability insurance for accidents that their drivers cause. So, if the rideshare driver at fault doesn't have insurance to cover your damages, Uber's auto insurance or Lyft's insurance policy will kick in.
Many rideshare third-party liability insurance covers:
$50,000 per person for bodily injuries
$100,000 per accident for bodily injuries
$25,000 per accident for property damage
Secondly, you should try to file your claim with the rideshare insurance company as soon as possible. If you wait too long, they may deny your claim.
8. File a Personal Injury Lawsuit
If you were seriously injured in an accident caused by an Uber or Lyft driver, you may want to consider filing a personal injury lawsuit. This is usually only necessary if the rideshare driver doesn't have insurance to cover your damages.
If you decide to file a lawsuit, you need to do it within the statute of limitations. In Las Vegas, this is two years from the date of the rideshare accident. If you wait too long, you will be unable to file a lawsuit and fight for the compensation you deserve.
You don't have to fight alone. Work with our car accident lawyers to maximize your settlement after a rideshare accident.
Filing a personal injury lawsuit may seem like a lot of work, but it can be worth it. It also helps ensure irresponsible rideshare drivers take responsibility for their mistakes. Also, the legal claim allows you to recover damages that you may not be able to get through insurance, including pain and suffering.
Do I Need to Hire a Car Accident Lawyer After a Lyft or Uber Accident?
Having an experienced car accident attorney on your side can make a big difference in the outcome of your case. They will know how to deal with the insurance companies and get you the compensation you deserve. Car accident attorneys usually work on a contingency basis, so you don't have to pay anything upfront.
When looking for a car accident lawyer, you want to find one with experience handling Las Vegas Uber accidents. These cases can be very complicated, and you need an attorney who knows how to deal with the insurance companies.
Schedule a Free Consultation Today
After a Las Vegas Lyft or Uber accident, it's important to take the necessary steps to protect your rights. The first thing should be your health and safety, followed by gathering evidence and information. After that, you may want to consider hiring a car accident lawyer to take you through the insurance claim or personal injury lawsuit process. Taking these steps will help you get the compensation you deserve.
If you're ready to fight for justice, our auto accident lawyers are ready to help. Schedule a FREE consultation with our team today to see if you qualify to bring a legal claim for compensation.
Legal Disclaimer
This webpage is not intended to be an advertisement or solicitation. The hiring of a lawyer is an important decision that should not be based solely upon advertisements. Material contained in our website is for general information only and does not constitute legal advice or solicitation of legal services.
Transmission of information from this site is not intended to create, and its receipt does not constitute, an attorney-client relationship between Adam S. Kutner and the user of this site. In the event that any information on this web site does not conform fully with regulations in any jurisdiction, this law firm will not accept representation based on that information.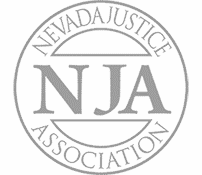 Adam Kutner es uno de los 100 mejores abogados litigantes con experiencia y conocimientos que lo beneficiarán
Llámenos hoy al (702) 382-0000 en cualquier momento para programar una consulta gratuita. Trabajaremos para conseguirle la máxima liquidación lo antes posible.
Conozca a más abogados asociados
Adam Kutner Reviews & Testimonials
"We were in a car accident – we were coming off of the interstate and were waiting – yielding at the exit and a car sped through the exit and smacked us in the rear.
It was definitely scary especially because we had our baby in the car. My husband and I and our baby in the back seat. We definitely – immediately went back in and checked on her to make sure she was okay.
We definitely had back pains my daughter had headaches. She kept holding her head and crying. It was pretty bad.
I remember seeing a couple billboards and a friend of mine did say they had a pleasant experience with Adam Kutner, so we called them right up.
They definitely were thorough, and you could tell just by talking to the people in the office that they genuinely cared about their clients.
They contacted us saying you know, explain the process on how the settlement gets done and about a week after that happened we had our settlement which was great and in my opinion Adam S. Kutner is the best attorney in Las Vegas."
– Janae Reynolds. 5/5 Stars
Real Client Testimonial: Janae Reynolds
START YOUR FREE CONSULTATION
NO FEES UNLESS WE WIN!
Home Visits Are Available
Call Now for Details