What If a Driver Hits Me While High?
Drunk driving today means many different things. Driving under the influence of alcohol is only one way to be a drunk driver in the State of Nevada. It's also illegal to drive while you're high on drugs. Including state-legal recreational marijuana.
Driving while high means driving under the influence of any controlled substance in Nevada. If a driver hits you while they are high, you will need to work with an experienced personal injury firm to build your claim for recovery. Here's what you need to know if you're hit by a driver that's high in Las Vegas or anywhere in Nevada.
START YOUR FREE CONSULTATION
NO FEES UNLESS WE WIN!
Driving While High Is Illegal in Nevada
It's illegal to drive while high in the State of Nevada. All street drugs are included, and a driver can even break the law by driving under the influence of prescription medicine. All street drugs fall under Nevada's driving while high laws and prescription drugs can make a driver under the influence too.
Nevada is one of several states that have set a legal limit for driving under the influence of most street drugs. The legal limits for each type of drug are listed in Nevada Revised Statute 484C.110. If the driver has that much of the drug in their blood or more, they're in violation of Nevada law.
But even if their drug levels are lower than the legal limits, they can still be in violation of the law if the drug influences their ability to drive. If they're at fault for the accident where they hit you, their poor driving may be the proof that the prosecutor uses to prove their guilt.
The Driver May Face Criminal Charges
If you're hit by a high driver in Las Vegas or anywhere in Nevada, the person who hit you may face serious criminal charges for their acts. Nevada Revised Statute 484C.430 lists the criminal penalties for driving while high when a person gets seriously hurt as a result.
A person who hurts someone else by driving high faces between two and 20 years in prison. The law even directs the state prosecutor not to plea bargain the charge to a lesser offense unless there's a question of the driver's guilt.
You May Collect Restitution as Part of a Criminal Proceeding
You may be able to collect restitution payments if the driver that hits you receives a criminal conviction for their actions. However, restitution from the criminal proceeding alone may not fairly compensate you for your losses.
Restitution often only compensates you for your direct, financial losses that occur between the time of the offense and the time of the driver's sentencing for your crime. That's usually only a very small part of your losses. In criminal court, there's no recovery for emotional suffering, lost income from your inability to work, or future medical losses in a criminal proceeding.
You May Not Recover Through Nevada's Criminal Law System
Also, if you're hit by a high driver, you may not receive any compensation through Nevada's criminal law system. There's a higher burden of proof for getting a conviction in criminal law than there is to find someone responsible in a civil case.
In other words, it's easier to win if you bring your own case than it is for the state prosecutor to prove that the other driver is guilty of a crime. In other words, you don't want to leave it up to the criminal system to get the compensation that you deserve. It's hard to recover in criminal court, and even if you do, the compensation is much more limited that you can receive in civil court.
But the Criminal System May Help You Build Your Case
Even though the criminal justice system might be inadequate for your recovery if you're hit by a driver that's high, there are ways that the criminal justice system may help you. If the police test the driver's drug levels, the test results can be helpful evidence in the case. The police may also work to identify witnesses. You may call the police officer and toxicologist as witnesses in your civil case.
The Standard That Applies for a Driving While High Case Is Negligence
The standard for recovery in a civil case in Nevada is negligence. That means to win your case for recovery against a driver that hits you while high; you must show that the driver acted negligently. That means that the driver wasn't as careful as a reasonable person should have been under the same circumstances. You must also show that you got hurt as a result of their negligent behavior.
A Person Who Drives While High Is Acting Negligently
Driving while high is negligence. A person who drives while high isn't being as careful on the road as a reasonable person would be. If you're hit by a driver that's high, you have a strong case that the other driver acted negligently.
You must still prove how the driver's actions led to your injuries. If you're in an accident with a high driver, there must be a connection between the driver's intoxication levels and the accident. If they're at fault for the crash in any way and they're high, you have the proof that you need to show that their drug use caused the accident. Even if you're partially to blame for the crash, you may still be able to recover for some of your losses.
You Deserve Full Compensation for Your Damages
If you're hit by a driver that's high, you have a right to the full range of damages that are available in all negligence cases in Nevada. Your damages include compensation for your financial losses including medical bills, lost income if you can't work, physical therapy aids, and expenses and even replacement services if you need help doing household tasks.
You can also ask for additional amounts to compensate you for physical suffering and emotional anguish. The purpose of Nevada's civil court system is to adequately compensate you for your losses if you're the victim of someone else's negligent behavior.
How Can an Injury Attorney Help?
If you're hit by a high driver in Nevada, an experienced attorney can help. They have experience assisting deserving victims like you and work to get the recovery that you deserve if you're hit by an intoxicated driver.
You must work carefully with your attorney to build your case and show how the actions of the other party resulted in your injuries.
Legal Disclaimer
This webpage is not intended to be an advertisement or solicitation. The hiring of a lawyer is an important decision that should not be based solely upon advertisements. Material contained in our website is for general information only and does not constitute legal advice or solicitation of legal services.
Transmission of information from this site is not intended to create, and its receipt does not constitute, an attorney-client relationship between Adam S. Kutner and the user of this site. In the event that any information on this web site does not conform fully with regulations in any jurisdiction, this law firm will not accept representation based on that information.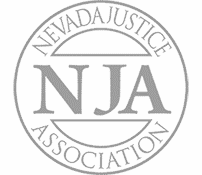 Adam Kutner es uno de los 100 mejores abogados litigantes con experiencia y conocimientos que lo beneficiarán
Llámenos hoy al (702) 382-0000 en cualquier momento para programar una consulta gratuita. Trabajaremos para conseguirle la máxima liquidación lo antes posible.
Conozca a más abogados asociados
Adam Kutner Reviews & Testimonials
"We were in a car accident – we were coming off of the interstate and were waiting – yielding at the exit and a car sped through the exit and smacked us in the rear.
It was definitely scary especially because we had our baby in the car. My husband and I and our baby in the back seat. We definitely – immediately went back in and checked on her to make sure she was okay.
We definitely had back pains my daughter had headaches. She kept holding her head and crying. It was pretty bad.
I remember seeing a couple billboards and a friend of mine did say they had a pleasant experience with Adam Kutner, so we called them right up.
They definitely were thorough, and you could tell just by talking to the people in the office that they genuinely cared about their clients.
They contacted us saying you know, explain the process on how the settlement gets done and about a week after that happened we had our settlement which was great and in my opinion Adam S. Kutner is the best attorney in Las Vegas."
– Janae Reynolds. 5/5 Stars
Real Client Testimonial: Janae Reynolds
START YOUR FREE CONSULTATION
NO FEES UNLESS WE WIN!
Home Visits Are Available
Call Now for Details