Who is Liable in a Moving Truck Crash?
Nevadans pack up and move more often today than ever before. Whether you're moving for school, work, to be near family or just for an adventure, the average Nevadan moves several times in their lifetime. Lots of people move by renting a moving truck. Even if they've never driven a truck, many people reserve a rental and drive to their new home.
With so many people on the move, some moving truck accidents are inevitable. If you're involved in a moving truck accident, you might wonder who's responsible and if you will need the help of a Las Vegas personal injury law firm. Here's what you need to know about who's liable in a moving truck accident.
START YOUR FREE CONSULTATION
NO FEES UNLESS WE WIN!
Moving Truck Accident Liability Often Involves More Than One State
The question of where legal liability falls is especially complicated because many moves involve more than one state. A driver often rents a truck from a company in one state only to drive across country and return it in another state. Maybe that's why there's a U.S. law about moving truck accidents that applies to all states. 49 U.S.C. 30106 is a U.S. law that applies to all moving companies that operate in the United States.
49 U.S.C. 30106 says that the truck leasing companies generally aren't liable for accidents that occur in their leased trucks. For the rule to apply, the truck rental company must be in the business of leasing vehicles. The rule doesn't apply if you lend a truck to a friend. The rule also doesn't apply if the company that rents isn't usually in the business of leasing vehicles. Also, the rental exemption applies only if the rental company isn't negligent or engaged in criminal wrongdoing when they rent the truck.
Examples of Moving Truck Rental Company Responsibility for an Accident
Say that Pat is moving from Las Vegas to Reno. Pat goes to Big Moving Truck Company and rents a truck for the move. Before leasing the vehicle, Big Moving Truck Company performs a basic inspection of the vehicle and finds that it's in good condition. Pat takes the truck back home, packs it, and begins the journey. While traveling, Pat fails to stop at a stop sign. Pat collides with another vehicle causing injuries and property damage.
In this case, Big Moving Truck Company probably isn't liable for the accident. They weren't negligent or engaged in criminal activity when they leased the vehicle to Pat. The U.S. law applies to shield Big Moving Truck Company from liability for the accident.
A company may not only rent moving trucks to qualify for protection under the law. For example, a home improvement store might lease trucks to customers. The customers might only transport materials a few miles back to their home. The home improvement store's primary business is selling home improvement supplies. Their primary business isn't renting moving trucks. Even so, the home improvement store likely qualifies for protection under the U.S. law.
Is a Moving Truck Rental Company Ever Liable for a Truck Accident?
There are some exceptions to the law. If an exception applies, the moving truck rental company may still be liable. For example, say Pat arrives at Big Moving Truck Company to rent a vehicle. Pat appears under the influence of alcohol. Despite Pat appearing visibly intoxicated, the employees at Big Moving Truck Company rent Pat the truck. Pat crashes into a car a short time later. Pat's intoxication is likely to blame. In this situation, Big Moving Truck Company is likely liable to the accident victims for their damages.
Another scenario where a moving truck rental company might be liable for negligence is if they fail to inspect a truck property before renting it. For example, Morgan rents a truck from Big Moving Truck Company. When it's time to return the vehicle, Morgan reports that the brakes don't feel right. Big Moving Truck Company doesn't inspect the vehicle before renting it to Peyton. When Peyton is driving the vehicle, the brakes fail, and a crash results. In this situation, Big Moving Truck Company is liable because of their negligence in failing to keep the vehicle in good working condition.
What If I Don't Know If the Moving Truck Company Is Negligent or Engaged in Criminal Activity?
You may not always know if a moving truck company has acted negligently in a way that contributed to a crash. It's okay if you don't know the exact cause of the accident right away. It's also possible that there's more than one cause of a crash.
If you don't know whether the moving truck company is liable for a truck accident, our Las Vegas injury attorneys can help you conduct an investigation. We can contact witnesses and work with experts to piece together what happened to cause the accident. Our team can help you use both informal and formal methods to help you investigate.
Why Aren't Truck Rental Companies Usually Responsible for Truck Accidents?
The purpose of the U.S. law that applies to moving truck rental companies is to encourage businesses to rent vehicles. Lawmakers worried that businesses might not want to rent vehicles if they're legally liable when accidents occur. Because they believe that rental truck companies are important for the American economy, these lawmakers thought that a federal law was a good idea.
Rental Truck Companies Must Still Carry Insurance Under State Law
Even though the U.S. law that applies to moving truck rentals generally says that moving truck rental companies aren't liable for accidents that involve their vehicles, the law doesn't absolve the rental companies of the requirement that they have vehicle insurance.
Each rental company must have the coverage that state law requires. The moving truck companies can be held responsible if they don't have the required insurance. The moving truck company must also follow vehicle registration requirements.
Contact a Qualified Personal Injury Attorney
Have you been hurt in an accident involving a moving truck? Whether you were in the moving truck or another vehicle, we can help you sort it out. Our experienced Las Vegas and Henderson truck accident lawyers can help you determine legal liability for the accident and help you bring a claim for recovery. Contact us today to get started.
Legal Disclaimer
This webpage is not intended to be an advertisement or solicitation. The hiring of a lawyer is an important decision that should not be based solely upon advertisements. Material contained in our website is for general information only and does not constitute legal advice or solicitation of legal services.
Transmission of information from this site is not intended to create, and its receipt does not constitute, an attorney-client relationship between Adam S. Kutner and the user of this site. In the event that any information on this web site does not conform fully with regulations in any jurisdiction, this law firm will not accept representation based on that information.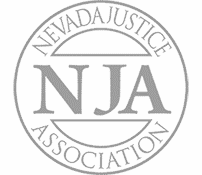 Adam Kutner es uno de los 100 mejores abogados litigantes con experiencia y conocimientos que lo beneficiarán
Llámenos hoy al (702) 382-0000 en cualquier momento para programar una consulta gratuita. Trabajaremos para conseguirle la máxima liquidación lo antes posible.
Conozca a más abogados asociados
Adam Kutner Reviews & Testimonials
"We were in a car accident – we were coming off of the interstate and were waiting – yielding at the exit and a car sped through the exit and smacked us in the rear.
It was definitely scary especially because we had our baby in the car. My husband and I and our baby in the back seat. We definitely – immediately went back in and checked on her to make sure she was okay.
We definitely had back pains my daughter had headaches. She kept holding her head and crying. It was pretty bad.
I remember seeing a couple billboards and a friend of mine did say they had a pleasant experience with Adam Kutner, so we called them right up.
They definitely were thorough, and you could tell just by talking to the people in the office that they genuinely cared about their clients.
They contacted us saying you know, explain the process on how the settlement gets done and about a week after that happened we had our settlement which was great and in my opinion Adam S. Kutner is the best attorney in Las Vegas."
– Janae Reynolds. 5/5 Stars
Real Client Testimonial: Janae Reynolds
START YOUR FREE CONSULTATION
NO FEES UNLESS WE WIN!
Home Visits Are Available
Call Now for Details