What Is Taken into Consideration When Determining a Truck Accident Settlement?
A truck accident settlement is a monetary grant that is made to those people suffering from serious injuries because of collisions with trucks that occur as a result of recklessness or driver negligence. These settlements vary greatly depending on the circumstances and how serious the accident and sustained injuries prove to be. In the majority of instances, such truck accident awards cover the costs of any permanent disability, the medical bills of the victim, damage to property, wages that are lost, and suffering and pain. If you are a truck collision survivor, or a family member with a loved one who has died because of a truck-related collision, then it is important to understand what is involved so that you can meet with a well-qualified accident attorney to attempt to obtain an injury-related settlement.
START YOUR FREE CONSULTATION
NO FEES UNLESS WE WIN!
The Various Categories of Settlement In A Truck Collision
Truck-caused accidents typically involve substantial costs for the victim-passengers and drivers of the cars, vans, or SUV's with which they collide. This includes expenses surrounding medical bills, damages to the vehicle itself, loss of wages because of injuries sustained, and physical pain and mental suffering. Medical bills in truck accidents can run into the tens or even occasionally hundreds of thousands of dollars. Vehicles are typically totaled out in these types of collisions and need to be replaced rather than repaired. Lost wages can be tens of thousands of dollars worth of income that needs to be paid out so that the victims are not financially ruined by the accident and its accompanying consequences. Physical pain and mental anguish are two other variables for which it is difficult to quantify a dollar amount, yet they deserve fair compensation nonetheless.
---
Basis of Truck Accident Settlements
Trucking accidents can be caused by any number of different factors. Some of them may cause, lead to, or increase the severity of the resulting collision. Victims typically have a good basis for their legal claim if there was:
Carelessness or lack of attention on the part of the truck driver
Fatigue of the truck driver
Insufficient training or inexperience of the truck driver
Violation of traffic laws, by running through red lights, by speeding, or by not utilizing turn signals
Vehicle malfunctions or failures that lead to a collision, such as problems with steering or a tire blowing out
Inappropriately attached trailers or poorly loaded cargo
---
Deriving Fault In A Truck Accident Case
It is necessary to prove that a truck driver or his vehicle is to blame in a truck and car accident in order for a significant settlement to be made. Statistics state that around 75% of these types of accidents result from those driving the passenger vehicles, and not from failure on the part of the truck drivers themselves. Another sad statistic is that both drivers and passengers in the significantly smaller vehicles are typically killed or at least injured in the majority of these cases. All the while, the drivers of the trucks are typically safe, more or less.
---
The Way That Settlements Are Calculated
Victims who are injured in these types of collisions typically need emergency medical attention and in many cases longer-term medical treatment. In many cases, they are no longer able to work, or not able to work for a long time. This often causes undue financial hardship, which coupled with rising medical expenses many times leaves the sufferers of these terrible accidents financially ruined.
The settlements in these truck-related collisions pertaining to injuries do vary greatly from one case to the next. Factors that influence them include:
• Case of any wrongful death because of the accident
• Types and extent of the injuries of the victims (More severe injuries are typically given higher compensatory awards, in particular for permanent disability cases)
• Amounts of property damages and medical bills encountered by the victims
• Anticipated expenses concerning likely future medically necessary treatments and future wages that could or will be lost
• History of the negligent offender in causing accidents with injuries
Where wrongful death is involved, family members are often given burial and funeral costs along with replacement financial support of which they have been unfairly deprived because of the death of their family member. This is why it is so important to engage in a free consultation with an experienced and proven Las Vegas or Summerlin truck accident lawyer as soon as possible.
---
Does The Truck Driver Pay Or The Employing Company?
Truck drivers may be required to pay in the cases where they are independent drivers and are not working for a trucking company. Their insurance company would be the first party on the hook in these instances. In those majority of cases where the driver works for a trucking firm, the deeper pockets with the wherewithal to cover compensatory damage awards are always those of the employing trucking companies and their insurance policy holding companies.
---
Differences From A Standard Car Accident
There are a variety of differences between typical car to car collisions and truck and car accidents. Whereas many inter-car accidents happen at night or after dark, about 2/3 of all car and truck crashes happen in daylight, in areas that are rural, and on the weekends. Approximately 12% of these truck accidents involving fatalities have rollovers as a component of the accident. With about 27% of truck and car crashes that include fatalities, the driver of the truck has a prior speeding conviction. The highest plurality of these death-causing car and truck accidents occur in Florida, California, and Texas, more than in any other states throughout the U.S.
---
In Conclusion
The fact of the matter is that when your loved one has died in a car and truck collision, or if you or your family member has sustained injuries in such an accident with a truck, then you are likely entitled to receive compensation in your claim of personal injury. This is why it is so important to engage in a free consultation with an experienced and proven accident advocate.
The best attorneys in this regard are those with a well-established record of winning when up against major insurance companies and company lawyers. Plaintiffs should engage a lawyer with great experience and proven history in winning such truck and car accident litigations. The right choice of attorney will determine how the case outcome proceeds.
Legal Disclaimer
This webpage is not intended to be an advertisement or solicitation. The hiring of a lawyer is an important decision that should not be based solely upon advertisements. Material contained in our website is for general information only and does not constitute legal advice or solicitation of legal services.
Transmission of information from this site is not intended to create, and its receipt does not constitute, an attorney-client relationship between Adam S. Kutner and the user of this site. In the event that any information on this web site does not conform fully with regulations in any jurisdiction, this law firm will not accept representation based on that information.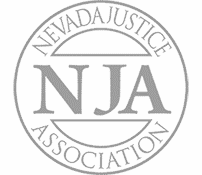 Adam Kutner es uno de los 100 mejores abogados litigantes con experiencia y conocimientos que lo beneficiarán
Llámenos hoy al (702) 382-0000 en cualquier momento para programar una consulta gratuita. Trabajaremos para conseguirle la máxima liquidación lo antes posible.
Conozca a más abogados asociados
Adam Kutner Reviews & Testimonials
"We were in a car accident – we were coming off of the interstate and were waiting – yielding at the exit and a car sped through the exit and smacked us in the rear.
It was definitely scary especially because we had our baby in the car. My husband and I and our baby in the back seat. We definitely – immediately went back in and checked on her to make sure she was okay.
We definitely had back pains my daughter had headaches. She kept holding her head and crying. It was pretty bad.
I remember seeing a couple billboards and a friend of mine did say they had a pleasant experience with Adam Kutner, so we called them right up.
They definitely were thorough, and you could tell just by talking to the people in the office that they genuinely cared about their clients.
They contacted us saying you know, explain the process on how the settlement gets done and about a week after that happened we had our settlement which was great and in my opinion Adam S. Kutner is the best attorney in Las Vegas."
– Janae Reynolds. 5/5 Stars
Real Client Testimonial: Janae Reynolds
START YOUR FREE CONSULTATION
NO FEES UNLESS WE WIN!
Home Visits Are Available
Call Now for Details