What Should You Do If a Gravel Truck Damages Your Vehicle?
Windshield Damage in Las Vegas
Las Vegas has a lot of gravel trucks that can be dangerous to car drivers. They can damage other vehicles which can cause bigger accidents. It is an unpleasant experience to be driving and get a dent in your car's windshield. It does not take much to damage a windshield. In fact, the top insurance claim is a windshield replacement. This was especially a problem when trucks were making way for the Las Vegas Beltway. However, it still remains a problem on the road today. There are various ways to resolve the issue by following a standard procedure. Windshields can crack and knowing what to do if you notice your windshield is chipped from a stray pebble is important. Our team of experienced Las Vegas and Henderson truck accident lawyers has prepared the most important information to know if a gravel truck damages your vehicle.
START YOUR FREE CONSULTATION
NO FEES UNLESS WE WIN!
How to Request a Replacement From the Company
Most trucks now have a disclaimer sign attached to the back. It states that neither the driver nor the company is to be held responsible. This is not entirely true and is meant to discourage people from filing claims. The driver or the company is responsible if dirt, gravel, rock falls off the top of the truck. Admittedly, this is hard to prove, but there is a procedure to request a replacement from the company. As much documentation as possible should be taken immediately. You must note the location, time, and truck's license plate number. Photos should be taken if possible. The company should be contacted to attempt to work it out. In the possibility the company refuses and is not interested in negotiating, a report with the Nevada Highway Patrol should be filed.
---
Contacting Your Insurance Company to Submit a Claim if Company Refuses
Your insurance company can be contacted as another option, depending on the damage. Before contacting the insurance company you should consider your deductible. The cost of the repair should be compared with the size of your comprehensive deductible. Every insurance company and policy is different. . Some insurances cover windshield replacements entirely or they repair cracks for free. A comprehensive claim can be filed with your insurance company. Comprehensive claims cover this, because it is considered as road debris. If your deductible is too high it is best to repair the windshield out-of-pocket. The insurance premium may also increase if a claim is filed. Remember, this option is only if your insurance policy covers windshield damages and is dependent on how low your deductible is. If you decide to submit a claim, it can be done by phone, in person, or online. You will need to have the damage inspected to get an approval for reimbursement. Your insurance company agent will be able to confirm if your insurance policy covers a windshield repair. Even if you are not covered, they can explain your options and provide advice.
---
Contacting Repair Shops as Another Other Option
Estimate quotes from at least three companies who can fix or replace your windshield should be sought. There are various different companies out there that have relative accessible prices. The prices are much lower than the ones offered to insurance companies. Options at this point will be to either repair the windshield or purchase a brand-new or used salvage windshield. Factors that determine if it is possible to repair the windshield are based on the crack's location, size, and timespan. The repair option is inexpensive and convenient. A used windshield will rarely come with a guarantee, but will also be inexpensive. On the other hand, a new windshield will likely come with a guarantee. The repair shop should meet the Auto Glass Replacement Safety Standards Council standards. Qualifying questions should be asked aside from certification and price. This is a job that should be done properly. Glass repair shops will meet you wherever your car is located and change it there hassle free.
---
Determining Whether to Get a Windshield Repair or Replacement
You should protect yourself against any windshield repair fraud by being aware of the warning signs. You should research repair shops prior to selecting one. Your insurance company can recommend reputable repair shops. While considering which option to choose, recognize that an original windshield will always be better than a replacement windshield. Prior to replacing the windshield, the amount of the damage should be assessed. There are different types of cracks, but the most common type caused by gravel trucks is chip and stone breaks. Chips are about $50 to fix and cracks can be about $100 to $200 to repair. This is relatively cheap instead of replacing the entire windshield. It is recommended that a repair be done if the cracks are smaller than 6 inches instead of a replacement.
---
Final Things to Consider
Speak with your insurance company to discuss your options before getting any work done. An expert should do any repairs or replacements, because it can make your car dangerous to drive if done cheaply. A low-cost option or an incorrect installation can cost you your life. Consider your options carefully and take action as soon as you notice the crack. Regardless, of the size of the crack in the windshield you should be worried. Windshields are safety devices that protect against injuries and death. It is essential during car accidents, because it offers a layer of protection. Any repair action should be done quickly, because it is not possible to stop a windshield crack once it starts.
Legal Disclaimer
This webpage is not intended to be an advertisement or solicitation. The hiring of a lawyer is an important decision that should not be based solely upon advertisements. Material contained in our website is for general information only and does not constitute legal advice or solicitation of legal services.
Transmission of information from this site is not intended to create, and its receipt does not constitute, an attorney-client relationship between Adam S. Kutner and the user of this site. In the event that any information on this web site does not conform fully with regulations in any jurisdiction, this law firm will not accept representation based on that information.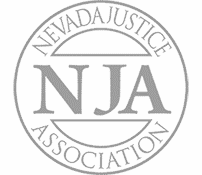 Adam Kutner es uno de los 100 mejores abogados litigantes con experiencia y conocimientos que lo beneficiarán
Llámenos hoy al (702) 382-0000 en cualquier momento para programar una consulta gratuita. Trabajaremos para conseguirle la máxima liquidación lo antes posible.
Conozca a más abogados asociados
Adam Kutner Reviews & Testimonials
"We were in a car accident – we were coming off of the interstate and were waiting – yielding at the exit and a car sped through the exit and smacked us in the rear.
It was definitely scary especially because we had our baby in the car. My husband and I and our baby in the back seat. We definitely – immediately went back in and checked on her to make sure she was okay.
We definitely had back pains my daughter had headaches. She kept holding her head and crying. It was pretty bad.
I remember seeing a couple billboards and a friend of mine did say they had a pleasant experience with Adam Kutner, so we called them right up.
They definitely were thorough, and you could tell just by talking to the people in the office that they genuinely cared about their clients.
They contacted us saying you know, explain the process on how the settlement gets done and about a week after that happened we had our settlement which was great and in my opinion Adam S. Kutner is the best attorney in Las Vegas."
– Janae Reynolds. 5/5 Stars
Real Client Testimonial: Janae Reynolds
START YOUR FREE CONSULTATION
NO FEES UNLESS WE WIN!
Home Visits Are Available
Call Now for Details