Hazmat Truck Accident Liability
Any truck accident is a serious event. A truck accident is even more dangerous when it involves hazardous materials. When you're the victim of a hazardous materials truck accident, you have legal rights. You may want to work with a skilled truck accident attorney to get the compensation you deserve. Here's what you need to know about hazmat truck accident liability.
START YOUR FREE CONSULTATION
NO FEES UNLESS WE WIN!
Nevada Hazardous Materials Truck Accidents
Each day, there are 800,000 shipments of hazardous materials in the United States, according to the Federal Motor Carrier Safety Administration. The U.S. Department of Transportation reports that there are 200 fatal accidents each year that involve trucks transporting hazardous materials. In Nevada, victims of truck accidents that involve hazardous materials may claim compensation against the driver of the vehicle or their employer.
Hazardous Materials Basics
HAZMAT stands for hazardous materials. Hazardous materials are any material or substance that can hurt people or the environment. Categories of hazardous materials include materials that are:
Radioactive
Flammable
Explosive
Toxic/Infectious
Corrosive
Biohazardous
Oxidizer
Asphyxiant
Pathogen
Allergens
Additional dangerous materials
Anyone who transports hazardous goods must follow proper procedures for moving the goods.
What Are My Rights If I'm Injured in a Hazardous Materials Truck Accident in Nevada?
If you're injured in a hazardous materials truck accident in Nevada, your rights depend on who is at fault for the accident. Nevada is an at-fault state. Regardless of the seriousness of your injuries, you may be able to bring a claim for financial compensation.
To receive compensation, it must be the driver of the hazardous materials truck or another driver that is to blame for the accident. You may win financial compensation even if you're partially at fault for the accident.
What Can I Win for a Hazardous Materials Truck Accident Case?
In a hazardous materials truck accident case, you may recover for your losses and damages. Any kind of financial loss that you have may be a part of your claim. Your losses may include things that cost you money, like medical bills, and ways that you fail to earn money, like missed work.
In a hazardous material truck accident, the driver is often an employee of a trucking company. That means the trucking company is liable for the actions of the employee. You may be able to access large insurance policies that the trucking company must have to do business as a way to collect a judgment in your favor.
Legal Standards for Hazardous Materials Truck Accident Lawsuits
Businesses like trucking companies are obligated to protect the public. When they transport hazardous materials, they must take the utmost care to transport the materials safely. When they act negligently, the company becomes legally liable for the damages that result from their actions.
A hazardous materials trucking accident may occur because of the way that the company handles dangerous goods. An accident may also occur from a driving mistake. No matter the cause of the crash, the negligence of the company and the company's representatives creates legal liability to the victims who suffer harm from the accident.
How Do You Transport Hazardous Materials in Nevada?
A driver who wishes to transport hazardous materials in Nevada must have a special endorsement on their commercial driver's license. They must complete an online application and submit documentation that includes fingerprints. The fee is $86.50.
Each driver must have their own endorsement for hazardous materials. It's not enough for a company to have the endorsement. Drivers must use placarding to identify the cargo during transit.
Reporting Hazardous Materials Accidents in Nevada
A HAZMAT carrier must immediately notify state officials if any of the following occur because of an accident involving hazardous materials:
Death
Hospitalization of any person
Apparent damages of $50,000 or more
An evacuation that lasts more than an hour
Closure of a major road for more than one hour
Disruption of flight
Radioactive contamination
Contamination of infectious substances
Liquid marine pollutant of 450 liters or more
What Are the Laws for Transporting Hazardous Materials in Nevada?
The transportation of hazardous materials is highly regulated in the State of Nevada. In addition to federal laws, there are also state laws and rules that apply. Nevada law 459.500 establishes a state commission to oversee the packaging, handling, and disposal of hazardous materials in Nevada. Nevada law 480.360 tasks law enforcement officers with enforcing state laws about the transfer of hazardous materials. State regulations for hazardous materials don't apply to federal, state, or local government vehicles.
Before transporting HAZMAT materials in Nevada, the motor carrier must get a state permit from the Nevada Department of Motor Vehicles. If the carrier is from out of state, they must get a comparable application from their own state. An application to transport hazardous materials must include ownership and financial information for the carrier, a list of the motor carrier's debts, and customer information. The State of Nevada may share this information with the United States government.
Nevada Hazardous Materials Transportation Laws
Under Nevada law 459.590, it's illegal to transport hazardous materials without a transit manifest. The manifest states information about what you're transporting and where you're taking it. It's illegal to transport hazardous materials without a manifest or with an inaccurate manifest.
You may not transport hazardous materials to a location that is not authorized to receive it. Finally, it's against the law to make a false statement with regards to a shipment of hazardous materials. A manifest must contain the quantity, composition, route, and destination of the goods.
Contact Our Las Vegas Attorneys for Truck Accidents
Have you been in a truck accident that involves hazardous materials? We can help. Our Las Vegas injury attorneys have years of experience handling a wide range of accident and injury cases. Helping injured victims is all we do, and we're proud of the millions of dollars that we have recovered for accident victims.
It's our goal to help you get justice when you're hurt because of a hazardous materials trucking accident. Contact us today for a free consultation about your case.
Legal Disclaimer
This webpage is not intended to be an advertisement or solicitation. The hiring of a lawyer is an important decision that should not be based solely upon advertisements. Material contained in our website is for general information only and does not constitute legal advice or solicitation of legal services.
Transmission of information from this site is not intended to create, and its receipt does not constitute, an attorney-client relationship between Adam S. Kutner and the user of this site. In the event that any information on this web site does not conform fully with regulations in any jurisdiction, this law firm will not accept representation based on that information.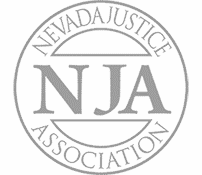 Adam Kutner es uno de los 100 mejores abogados litigantes con experiencia y conocimientos que lo beneficiarán
Llámenos hoy al (702) 382-0000 en cualquier momento para programar una consulta gratuita. Trabajaremos para conseguirle la máxima liquidación lo antes posible.
Conozca a más abogados asociados
Adam Kutner Reviews & Testimonials
"We were in a car accident – we were coming off of the interstate and were waiting – yielding at the exit and a car sped through the exit and smacked us in the rear.
It was definitely scary especially because we had our baby in the car. My husband and I and our baby in the back seat. We definitely – immediately went back in and checked on her to make sure she was okay.
We definitely had back pains my daughter had headaches. She kept holding her head and crying. It was pretty bad.
I remember seeing a couple billboards and a friend of mine did say they had a pleasant experience with Adam Kutner, so we called them right up.
They definitely were thorough, and you could tell just by talking to the people in the office that they genuinely cared about their clients.
They contacted us saying you know, explain the process on how the settlement gets done and about a week after that happened we had our settlement which was great and in my opinion Adam S. Kutner is the best attorney in Las Vegas."
– Janae Reynolds. 5/5 Stars
Real Client Testimonial: Janae Reynolds
START YOUR FREE CONSULTATION
NO FEES UNLESS WE WIN!
Home Visits Are Available
Call Now for Details