How Does Fatigue Affect Truck Accidents?
The risk of accidents occurring while driving is near-constant, which is why it's so important, and legally required, that we operate our vehicles safely. This is to protect us, our passengers, and other drivers on the road.
When motorists drive while they're fatigued, they increase their risk of being in an accident. According to the National Sleep Foundation, an estimated 6,400 people in the United States die from driver fatigue accident injuries each year. That risk is far greater when a commercial vehicle driver operates their semi-trucks while fatigued. The considerably larger size of semi-trucks can cause severe injuries to passenger vehicle drivers and passengers and even death.
START YOUR FREE CONSULTATION
NO FEES UNLESS WE WIN!
What Is Driver Fatigue and Why Is it Dangerous?
When a driver operates their vehicle while they are tired, they are experiencing driver fatigue.
Many of us have experienced fatigue at some point. When you're fatigued, you have difficulty keeping your eyes open, you probably can't think clearly or are disoriented, and your reactions may be slow. Operating a vehicle safely, however, requires care, caution, focus, and sound judgment. So when you combine these fatigue symptoms with operating a vehicle, it can be a recipe for destruction and devastation.
Driver fatigue is dangerous for the driver of any vehicle, but especially for truck drivers. On average, a fully loaded semi-truck weighs about 80,000 pounds. When a passenger vehicle driver gets into an accident with a massively heavy vehicle like a semi-truck, the potential harm it could do to both the driver and other passengers in the vehicle is hard to overstate. Semi-truck collisions could cause life-threatening, severe, and fatal injuries to drivers and passengers alike.
How Driver Fatigue Increases Accident Risks for Truck Drivers
The trucking industry is the backbone of American commerce, tasked with the important role of transporting all of our goods throughout the country. Truck drivers, as is the nature of their job, drive long distances for extended periods of time to transport those goods. It may be understandable that their jobs may be taxing and cause them to tire easily. But it's dangerous and against regulations for truck drivers to operate their trucks while they're fatigued. It also opens them and their employers up to being held liable for any accident they may cause as a result.
The regulations requiring truck drivers to get proper rest and mandating the number of consecutive hours they can drive have been implemented by The Federal Motor Carrier Safety Administration or the FMCSA. The FMCSA oversees the trucking industry. Their goal is to protect drivers and other road users across the country from being injured in accidents with commercial vehicles.
One way the FMCSA aims to protect the nation's drivers is by regulating how many hours truck drivers are allowed to drive each day and for how many hours they must be off duty and resting. Known as Hours of Service (HOS) Regulations, these rules are designed to ensure that truck drivers are focused while they're working. In conjunction with the HOS, truck drivers are required to keep a record of their driving and resting hours in their travel log. These travel logs must be maintained daily with complete information.
Steps to Take After Being Injured in a Truck Accident
After you've been injured in a truck accident due to the truck driver's fatigue, be sure to get medical attention right away. Not only is this for the benefit of your own health, but it also supports your claim. Evidence, including your medical records from this accident, will be used in your claim to show that you suffered injuries, those injuries were severe, and you had to seek treatment for them.
The very next thing you should do is contact a truck accident attorney. An experienced attorney who is skilled in representing truck accident victims can work on your behalf to get you the compensation you deserve. The trucking industry is a multi-billion dollar industry, and many trucking companies have large and expensive legal teams that can take advantage of accident victims while protecting their clients. A truck accident attorney who's not afraid to go toe to toe with these companies can be your best advocate.
While truck driver fatigue is one of the more complicated causes of truck accidents to prove, it's not impossible. The evidence contained in the truck driver's travel log could offer huge support for your claim. If we discover that the truck driver was not following the FMCSA regulations for HOS by driving more hours before the accident than are permitted, then we can argue that the truck driver caused the accident because they were fatigued. If the truck driver caused your accident, that makes them or their employer liable for compensating you.
Contact Us
If you've been injured in a truck accident because of a truck driver's negligent actions, you may be entitled to compensation. Your rights should be protected. The attorneys of Adam S. Kutner Personal Injury Attorneys have decades of experience helping truck accident victims get the compensation they deserve, and we can help you.
Contact our truck accident attorneys to schedule a free consultation. You won't owe us a dime unless and until we secure compensation for your injuries. Call us today at (702) 382-0000 or contact us online.
Legal Disclaimer
This webpage is not intended to be an advertisement or solicitation. The hiring of a lawyer is an important decision that should not be based solely upon advertisements. Material contained in our website is for general information only and does not constitute legal advice or solicitation of legal services.
Transmission of information from this site is not intended to create, and its receipt does not constitute, an attorney-client relationship between Adam S. Kutner and the user of this site. In the event that any information on this web site does not conform fully with regulations in any jurisdiction, this law firm will not accept representation based on that information.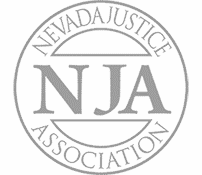 Adam Kutner es uno de los 100 mejores abogados litigantes con experiencia y conocimientos que lo beneficiarán
Llámenos hoy al (702) 382-0000 en cualquier momento para programar una consulta gratuita. Trabajaremos para conseguirle la máxima liquidación lo antes posible.
Conozca a más abogados asociados
Adam Kutner Reviews & Testimonials
"We were in a car accident – we were coming off of the interstate and were waiting – yielding at the exit and a car sped through the exit and smacked us in the rear.
It was definitely scary especially because we had our baby in the car. My husband and I and our baby in the back seat. We definitely – immediately went back in and checked on her to make sure she was okay.
We definitely had back pains my daughter had headaches. She kept holding her head and crying. It was pretty bad.
I remember seeing a couple billboards and a friend of mine did say they had a pleasant experience with Adam Kutner, so we called them right up.
They definitely were thorough, and you could tell just by talking to the people in the office that they genuinely cared about their clients.
They contacted us saying you know, explain the process on how the settlement gets done and about a week after that happened we had our settlement which was great and in my opinion Adam S. Kutner is the best attorney in Las Vegas."
– Janae Reynolds. 5/5 Stars
Real Client Testimonial: Janae Reynolds
START YOUR FREE CONSULTATION
NO FEES UNLESS WE WIN!
Home Visits Are Available
Call Now for Details