Semi-Truck Underride Accident Liability
What Is a Truck Underride Accident?
A truck underride accident is an accident where a passenger vehicle slides underneath a truck. Because a truck is larger than a passenger car and sits higher on the road, a car can slide underneath the truck when it's hit in the front, from behind or even on the side. In an accident, the passenger vehicle slides under the truck.
The resulting crash is called a truck underride accident. If you have been injured in a truck underride crash, you will want to consult an experienced truck accident attorney to determine your rights to compensation.
START YOUR FREE CONSULTATION
NO FEES UNLESS WE WIN!
How Can a Truck Underride Accident Occur?
Here are some of the ways that a truck underride accident can occur:
A truck driver shifts into the next lane on a freeway. The passenger car in the lane has nowhere to go but under the truck.
The truck drifts from their lane into oncoming traffic. The vehicle coming the other way collides with the truck and slides underneath.
When a truck doesn't leave sufficient stopping distance for the vehicle in front of them, an underride accident can occur.
Trucks on the freeway that travel below minimum required speeds may create a hazard that results in an underride collision.
When a truck slams on their brakes, the passenger cars around them may not be able to react in time to avoid an underride accident.
Parked trucks on the side of the road can cause an underride crash when drivers can't avoid them.
Truck Underride Guard Laws
In 2017, a U.S. Senator introduced a bill to require trucks to install underride guards. The guards were meant to prevent underride crashes by stopping the passenger vehicle before they slide under the truck. The bill, the Stop Underrides Act of 2017, did not become law. However, Forbes reports that underride guards may be effective at low to moderate speeds. Despite recommendations from the U.S. Government Accountability Office, there are few standards and regulations when it comes to underride guards in trucking.
What Are My Rights After a Truck Underride Accident?
Even though lawmakers may be slow to act when it comes to underride guards and truck safety measures, you still have important rights when you're hurt because of a truck underride accident. When you bring a lawsuit for compensation after an underride accident, you're not only taking steps to receive the compensation that you need and deserve, but you're helping make the roads safer for everyone.
Nevada Truck Underride Accident Liability
If you're hurt in a truck accident in Nevada, the trucking company may owe you compensation for the accident. Whether the trucking company uses no underride guards, has inadequate underride guards or their guards simply prove to be ineffective, they may be liable for placing an unsafe vehicle on the road. The truck manufacturer may also have legal liability. While you may have a claim against the negligent driver whose actions cause the crash, you may also have a claim against the party who is responsible for the fact that a vehicle underride occurred in the accident.
Nevada law allows the injured victim to introduce evidence of crashworthiness as part of a products liability case. In the Roth v. BMW 2011 Nevada Supreme Court case, the court allowed the injured party to introduce evidence about the vehicle's crashworthiness. The injured party used the evidence to argue that the vehicle was defective because of the way it performed in an accident. Similarly, if you're injured because of an underride accident, you may be able to introduce evidence that the truck is defective because it's not equipped to prevent underride accidents.
Truck Underride Accident Lawsuits
A truck underride accident lawsuit may be a negligence claim. It may also be a products liability claim. You may bring both types of claims simultaneously when you're hurt in an accident.
A products liability accident is based on the design of the truck itself. In your claim, you're saying that the truck could have and should have been designed in a way that prevented the kind of harm that you suffered. You might say that the truck should have had larger underride guards, that there should have been side guards or that a front or rear guard was missing. To prove your case, you must present technical evidence that explains precisely how the truck is defective.
In a negligence claim, the basis for the claim is that the truck driver makes a driving error that causes the accident. If they merge into your lane when there isn't room or if they fail to leave enough following distance, for example, they're liable to victims when a crash occurs. When you base your claim on negligence, you must be able to identify the driving error that the truck driver made. In a products liability case, you must simply show that the truck is defective and that your injuries occurred or were made worse because of the truck's defects.
How Can a Truck Underride Accident Attorney Help Me?
When you're hurt in an accident, a truck underride accident attorney can help you pursue compensation for damages. To receive the monetary compensation that you deserve, you need to go about making your claim in the right way. Your attorney can help you determine who to file your claim against, where to file your claim, and what legal cause of action to pursue.
At each stage in the case, they speak for you and on your behalf. They have professional training that can make your case faster and less stressful. They know all of the types of compensation that you may deserve. Ultimately, representation from experienced legal counsel can result in your receiving the maximum possible compensation for your case as quickly as possible.
Why Choose Our Nevada Truck Accident Attorneys
When you've been hurt by an underride accident, the accident attorneys at Adam S. Kutner & Associates can help. We've helped thousands of accident victims just like you. It's our goal to help each accident victim aggressively pursue every avenue for compensation.
We don't stop until you have a check in your hands that fairly represents your losses and suffering. There's no cost to call and speak with a friendly member of our legal team. Contact our Las Vegas and Henderson truck accident lawyers today for a no-obligation, confidential, and free consultation about your case.
Legal Disclaimer
This webpage is not intended to be an advertisement or solicitation. The hiring of a lawyer is an important decision that should not be based solely upon advertisements. Material contained in our website is for general information only and does not constitute legal advice or solicitation of legal services.
Transmission of information from this site is not intended to create, and its receipt does not constitute, an attorney-client relationship between Adam S. Kutner and the user of this site. In the event that any information on this web site does not conform fully with regulations in any jurisdiction, this law firm will not accept representation based on that information.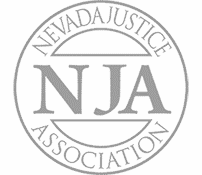 Adam Kutner es uno de los 100 mejores abogados litigantes con experiencia y conocimientos que lo beneficiarán
Llámenos hoy al (702) 382-0000 en cualquier momento para programar una consulta gratuita. Trabajaremos para conseguirle la máxima liquidación lo antes posible.
Conozca a más abogados asociados
Adam Kutner Reviews & Testimonials
"We were in a car accident – we were coming off of the interstate and were waiting – yielding at the exit and a car sped through the exit and smacked us in the rear.
It was definitely scary especially because we had our baby in the car. My husband and I and our baby in the back seat. We definitely – immediately went back in and checked on her to make sure she was okay.
We definitely had back pains my daughter had headaches. She kept holding her head and crying. It was pretty bad.
I remember seeing a couple billboards and a friend of mine did say they had a pleasant experience with Adam Kutner, so we called them right up.
They definitely were thorough, and you could tell just by talking to the people in the office that they genuinely cared about their clients.
They contacted us saying you know, explain the process on how the settlement gets done and about a week after that happened we had our settlement which was great and in my opinion Adam S. Kutner is the best attorney in Las Vegas."
– Janae Reynolds. 5/5 Stars
Real Client Testimonial: Janae Reynolds
START YOUR FREE CONSULTATION
NO FEES UNLESS WE WIN!
Home Visits Are Available
Call Now for Details