How Drivers Can Spot and Avoid Collisions With Pedestrians
When a car collides with a pedestrian, it could result in severe injuries or even death for that person. Therefore, it is critical that drivers take steps to identify situations where pedestrians may be present and take action before an accident can occur. What are some steps that drivers can take to reduce the risk of harm to themselves and pedestrians that they may encounter?
START YOUR FREE CONSULTATION
NO FEES UNLESS WE WIN!
Reduce Your Speed Near Intersections and Crosswalks
If you see a traffic light, there is a chance that there could also be a crosswalk. In some cases, pedestrians may be given the right to cross even if you may have a green light. For instance, a traffic control signal may allow pedestrians to cross the street while you simultaneously have a green light to make a right turn. However, the pedestrian will always have the right-of-way in such a scenario.
Regardless of whether or not someone who is trying to cross the street is doing so legally, make it a habit to slow down at any intersection. This will make it easier to stop or take other actions to avoid a collision if someone happens to walk into your car's path.
---
Children May Walk to and From School Each Day
In areas of the country where it may not be cost-effective to bus children to school, they will either be taken to school by their parents or walk to school. Therefore, it is your responsibility to look out for children in and around school zones as well as for their parents who may be walking in a shoulder if there is no dedicated sidewalk.
On school days, it may also be a good idea to be cognizant of school buses as children may need to cross the street to get from the bus to their house or vice-versa. A good rule of thumb is to always be prepared to slow down or stop if you see a school bus even if it has not yet come to a complete stop.
---
Be Careful Around Entertainment Districts
If you are going to be driving in an area that has multiple bars, shopping centers or sports arenas, you should be on the lookout for pedestrians. Sports fans may have to cross streets or stray off of the sidewalk when walking with thousands of other people to get to the arena. Those who are going on bar crawls will frequently walk to different establishments, and they may not be looking for cars or be aware of their surroundings depending on how much they have had to drink.
---
Accidents Are More Likely to Happen When It's Dark Outside
The early morning or late evening hours are prime times for collisions with pedestrians because they can be hard to see. Make sure that your car's lights are bright and illuminate as much of the road ahead of you as possible. In some cases, you will be alerted to the presence of a pedestrian because he or she is wearing reflective clothing or because he or she has a flashlight or something else to draw your attention.
During these times of the day, people are likely to be out taking a walk before work, taking the dog out for its evening walk or enjoying the warm air before spending several hours inside. Young children may be outside riding their bikes around the neighborhood or otherwise playing before school or before dinner in the evening, so be on the lookout for pedestrians if you are driving through residential neighborhoods.
When a car collides with a pedestrian, both the driver and the pedestrian could suffer serious injuries or death. Therefore, watching out for pedestrians is in the driver's best interest. While not all accidents can be avoided, driving slowly and cautiously in areas where pedestrians are likely to be reduces the chances of a serious crash.
Legal Disclaimer
This webpage is not intended to be an advertisement or solicitation. The hiring of a lawyer is an important decision that should not be based solely upon advertisements. Material contained in our website is for general information only and does not constitute legal advice or solicitation of legal services.
Transmission of information from this site is not intended to create, and its receipt does not constitute, an attorney-client relationship between Adam S. Kutner and the user of this site. In the event that any information on this web site does not conform fully with regulations in any jurisdiction, this law firm will not accept representation based on that information.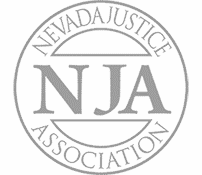 Adam Kutner es uno de los 100 mejores abogados litigantes con experiencia y conocimientos que lo beneficiarán
Llámenos hoy al (702) 382-0000 en cualquier momento para programar una consulta gratuita. Trabajaremos para conseguirle la máxima liquidación lo antes posible.
Conozca a más abogados asociados
Adam Kutner Reviews & Testimonials
"I needed an attorney because I couldn't deal with the accident on my own, so I needed someone else's opinion about my accident.
Well I heard about Adam Kutner through an associate of mine and I chose to seek him because I heard of him before also, so I thought he would be the best option for me.
I was very happy with my settlement and it came quicker than I thought, in just a couple months I received a check in the mail.
When I recommend Adam Kutner I would tell them that the settlement comes very quickly, and he is very helpful with transportation and whatever else you may need."
– Deborah Banks. 5/5 Stars
Real Client Testimonial: Deborah Banks
START YOUR FREE CONSULTATION
NO FEES UNLESS WE WIN!
Home Visits Are Available
Call Now for Details