Can a Case Be Both Criminal and Civil?
You filed a criminal case and are ready to be done with the claims process. But that could just be the beginning. You may still need to bring a civil claim to receive the full compensation amount you deserve. So, how can a case be both criminal and civil? Our Nevada personal injury attorneys explain.
START YOUR FREE CONSULTATION
NO FEES UNLESS WE WIN!
What is the difference between a criminal case and a civil case?
There are distinct differences between a criminal case and a civil case. A criminal case is based on a crime, while a civil case is based on a wrong. Criminal courts in the United States decide when someone has committed a crime. Certain actions of an individual are categorized as crimes by the State of Nevada. Behavior that constitutes a crime may or may not also be a civil wrong. Even when there are no criminal charges, there still might be a valid civil claim.
How can a case be both criminal and civil?
A case can be both criminal and civil because the two proceedings apply different standards to resolve various wrongs. A person can both break a criminal law and commit a legal wrong against a private individual for the same conduct.
Criminal
The criminal lawsuit applies a higher standard of proof and decides whether or not the person broke a criminal law. A criminal lawsuit may deal with cases involving:
Murder
Burglar
Theft
Assault
Money laundering
Drug dealing
Arson
Fraud
Nursing home abuse
Civil
The civil lawsuit applies a lower standard of proof and decides whether the person violated a civil law. A civil lawsuit may deal with:
Personal injury claims (Car accident injuries, truck accidents, auto accidents)
Medical malpractice
Divorce
Child custody
Employee discrimination
Landlord/tenant issues
Contract disputes
In some instances, a case can be both criminal and civil. These cases most commonly occur when a criminal case is dismissed, but a victim still pursues damages from the defendant for a wrong committed against them.
Can a civil case turn criminal?
Yes, a civil case can turn criminal when the evidence uncovered in a civil case prompts a criminal investigation. A criminal case might begin when the civil trial reveals information that one of the parties may have committed a crime.
However, a civil case doesn't turn criminal because they are two separate proceedings. A civil claim can order only civil remedies. A new criminal case must begin for a party to face criminal penalties.
Who can initiate a criminal proceeding vs. a civil proceeding?
Different laws apply when filing a criminal vs. civil proceeding.
For a Criminal Proceeding:
Only a state attorney, called a district attorney or prosecutor, can file a criminal proceeding. Even if a victim knows that a crime was committed, it's up to the state's attorney to decide whether to proceed with criminal charges.
Once the charges are filed, the state's attorney decides whether to extend a plea offer to the defendant or take the case to trial. The victim can give input, but ultimately, the state's attorney makes the decisions.
For a Civil Proceeding:
On the other hand, any victim can initiate a civil case. The victim files the lawsuit in their own name and on their own behalf. You don't have to wait for approval from a third party to start your own civil case. In a civil case, the victim decides how to handle the case and what legal steps to take along the way.
Are the burdens of proof different in a criminal proceeding vs. a civil proceeding?
Yes. In a criminal proceeding, the state has to prove the case beyond a reasonable doubt. That's a relatively high burden of proof. In a civil proceeding, the burden of proof is a preponderance of the evidence. In other words, even if you lose the criminal proceeding, you might still win the civil proceeding with the same evidence. In addition, the elements that you need to prove might be a bit different.
Are different remedies available in a criminal case compared to a civil proceeding?
Just as the legal process for criminal cases and civil cases are different, so are the remedies. Here are possible remedies for each type of case.
Civil Case Remedies
The purpose of a civil claim is to ensure that a victim gets compensated fairly for suffering a legal wrong. Usually, the remedy in a civil case is money. Sometimes, the court might also order an injunction, which is an order to tell a party to stop doing certain things. They might also order someone to turn property over to someone else. However, the penalty for the victim in a civil case is usually money. Jail time is not a possible remedy.
Criminal Case Remedies
In a criminal case, however, there's a possibility that the defendant can go to jail. Jail, fines, probation, and counseling are all on the table in a criminal offense. The exact criminal charges determine the maximum jail time possible for the defendant in the case. In a criminal case, the primary penalties are jail time and fines paid to the court. While the defendant may be ordered to pay restitution to the victim, the primary purpose of the criminal proceeding is to have the person answer to the courts and society for their crimes.
A criminal case doesn't provide full compensation for a victim compared to a civil case
Restitution is a possibility in a criminal case. The court may order the defendant to pay direct financial losses to the victim. However, the criminal court typically doesn't evaluate or assess pain and suffering or consider medical bills or other medical expenses. They don't look at future damages throughout the lifetime of the victim. The damages that are available in a civil case are much more comprehensive. Only a civil case can give victims all the compensation they may deserve. A personal injury lawyer can help determine what to pursue in a civil case.
Nevada Civil Injury Attorneys
Do you have a question about a civil or personal injury case? Are you wondering if you can bring a civil claim? Our attorneys can help. We are prepared to fight for justice for you. Let us help you understand the difference between civil and criminal cases and what you need to do to receive justice. Call us today.
Sources
Cornell Law School, LII. Criminal Law.
Nevada Legislature. Nevada Rules of Civil Procedure.
Legal Disclaimer
This webpage is not intended to be an advertisement or solicitation. The hiring of a lawyer is an important decision that should not be based solely upon advertisements. Material contained in our website is for general information only and does not constitute legal advice or solicitation of legal services.
Transmission of information from this site is not intended to create, and its receipt does not constitute, an attorney-client relationship between Adam S. Kutner and the user of this site. In the event that any information on this web site does not conform fully with regulations in any jurisdiction, this law firm will not accept representation based on that information.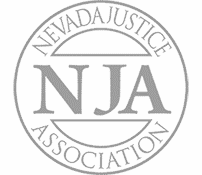 Adam Kutner es uno de los 100 mejores abogados litigantes con experiencia y conocimientos que lo beneficiarán
Llámenos hoy al (702) 382-0000 en cualquier momento para programar una consulta gratuita. Trabajaremos para conseguirle la máxima liquidación lo antes posible.
Conozca a más abogados asociados
Adam Kutner Reviews & Testimonials
"I needed an attorney because I couldn't deal with the accident on my own, so I needed someone else's opinion about my accident.
Well I heard about Adam Kutner through an associate of mine and I chose to seek him because I heard of him before also, so I thought he would be the best option for me.
I was very happy with my settlement and it came quicker than I thought, in just a couple months I received a check in the mail.
When I recommend Adam Kutner I would tell them that the settlement comes very quickly, and he is very helpful with transportation and whatever else you may need."
– Deborah Banks. 5/5 Stars
Real Client Testimonial: Deborah Banks
START YOUR FREE CONSULTATION
NO FEES UNLESS WE WIN!
Home Visits Are Available
Call Now for Details