What Makes for a Good Personal Injury Lawyer?
The worst has happened. You're in a tragic car accident, slip and fall accident or another type of accident. Now, it's time to find a good personal injury lawyer to help protect your rights. Unfortunately, most accident victims have little experience in finding the right attorney. How do you go about finding the right attorney and the best firm for your unique case?
Here are the qualities to look for that make for an excellent personal injury lawyer:
START YOUR FREE CONSULTATION
NO FEES UNLESS WE WIN!
1. Specialization in the Right Area of Practice
Just like doctors have various specialties, lawyers have specific areas of expertise, too. By focusing on a particular area of law, they're able to learn the law in depth. While it might seem tempting to use your divorce lawyer for a personal injury case, choose wisely! Experience in the area of practice gives an attorney the skills and insights to pursue the best possible result for you.
2. A Fully-Equipped Legal Team That Can Handle a Range of Legal Issues
Each case is unique. Some cases require expert witnesses, and some of those witnesses may be more than reluctant. There may be confusing evidentiary issues or other problems you may not know how to navigate. A good personal injury lawyer surrounds themselves with a team of attorneys and the resources to handle unique issues in each case.
3. Research and Writing Skills
A lot of advocating for a client is done in writing. In fact, to begin your case, the attorney prepares and files written documents. A good personal injury attorney knows how to research legal issues and present them in written arguments to the court. Effective research and writing skills are qualities that make for an excellent attorney.
4. Oral Advocacy Skills
While research and writing are necessary, ultimately, a trial is conducted by speaking. An attorney has to effectively argue to a jury and the judge. They have to be able to tell a story to the people who decide the case. Engaging and convincing public speaking skills are necessary to be an outstanding lawyer.
5. Listening Skills
An attorney won't represent you well if they don't know you well. They need to know the facts of the case, from your perspective. They also need to know what's most important to you as you pursue your claim. An attorney should ask you questions and actively involve you. They should listen to your concerns. Without listening, they can't effectively represent your best interests.
6. Communication
A lot of your attorney's work, research and strategizing happens behind the scenes. You may only see the surface of what is going on when it comes to your case. However, communication between lawyer and client is key. The lawyer needs to have the ability to keep you up to date. They should communicate with you in ways that you prefer and feel most comfortable, like phone calls, emails or letters. A good relationship with a client is critical throughout the case.
7. Thorough Pursuit of Your Case
A quality personal injury lawyer pursues the case in detail. They don't just talk to one witness; they speak to all the witnesses and line up expert witnesses as needed. They prepare for potential evidentiary issues, and they file motions for their clients. What makes for a good personal injury lawyer is dedication to a thorough pursuit of a case.
8. Trial Experience With a Settlement History, Too
Some attorneys like to conduct trials. Other attorneys want to settle every case. However, a good personal injury attorney has a track record of doing both. Most cases should settle. But an attorney should be able and willing to take a case to trial when it's appropriate. An experienced attorney knows when to try a case and when to settle it.
9. A Clearly Stated Fee Agreement
A clear fee agreement is an essential part of being a good lawyer. A client needs to know how the lawyer gets paid for the services that they provide. The agreement should be in writing and signed by both parties. The client should have the opportunity to ask questions, and the contract should be in plain language that the client can understand.
How Do I Find the Best Attorney for My Case?
To find the best attorney for your case, research all that you can about the attorney. Learn about their history and the legal team they have in place to represent their clients. The law firm should be a complete team that is fully equipped to specialize in your type of case.
In addition, it's critical to meet with the attorney. Get to know them face to face. By learning about your legal team and asking questions when you meet, you can find the best attorney to handle your case.
The Best Attorneys for Your Case and Jurisdiction
In addition to the other qualities of a good attorney, when you're looking for the right lawyer for your case, you need to be aware of something called jurisdiction. Attorneys are licensed in state and federal courts. An attorney who is licensed only in California can't represent you in a case in Nevada. You need an attorney who is licensed in the jurisdiction that is going to hear your case. An attorney can explain where they can represent you and whether they have the right licenses for your case.
Best Las Vegas Personal Injury Lawyer
In most cases, the best personal injury lawyer Las Vegas is going to be in Las Vegas. Most personal injury accidents that happen in Las Vegas have to be pursued in the Nevada courts. A Nevada personal injury lawyer is licensed in the state and can represent you in state courts.
There's another benefit to hiring a local attorney as the best personal injury lawyer in Las Vegas. A local attorney has personal experience in the court systems where your case will be heard. They know what to expect when it comes to local court rules and how the judges manage their cases. While personal injury laws are the same throughout Nevada, the regional differences about how judges operate their courtrooms are significant. The best personal injury lawyer in Las Vegas is an attorney that has experience in the local courts.
Personal Injury Attorneys Accepting Cases in Las Vegas
Are you looking for the best personal injury attorneys in Las Vegas for your case? We invite you to meet with our experienced legal team to learn more about our history and services. Our consultations are always free and confidential. Contact us today.
Legal Disclaimer
This webpage is not intended to be an advertisement or solicitation. The hiring of a lawyer is an important decision that should not be based solely upon advertisements. Material contained in our website is for general information only and does not constitute legal advice or solicitation of legal services.
Transmission of information from this site is not intended to create, and its receipt does not constitute, an attorney-client relationship between Adam S. Kutner and the user of this site. In the event that any information on this web site does not conform fully with regulations in any jurisdiction, this law firm will not accept representation based on that information.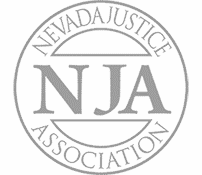 Adam Kutner es uno de los 100 mejores abogados litigantes con experiencia y conocimientos que lo beneficiarán
Llámenos hoy al (702) 382-0000 en cualquier momento para programar una consulta gratuita. Trabajaremos para conseguirle la máxima liquidación lo antes posible.
Conozca a más abogados asociados
Adam Kutner Reviews & Testimonials
"I needed an attorney because I couldn't deal with the accident on my own, so I needed someone else's opinion about my accident.
Well I heard about Adam Kutner through an associate of mine and I chose to seek him because I heard of him before also, so I thought he would be the best option for me.
I was very happy with my settlement and it came quicker than I thought, in just a couple months I received a check in the mail.
When I recommend Adam Kutner I would tell them that the settlement comes very quickly, and he is very helpful with transportation and whatever else you may need."
– Deborah Banks. 5/5 Stars
Real Client Testimonial: Deborah Banks
START YOUR FREE CONSULTATION
NO FEES UNLESS WE WIN!
Home Visits Are Available
Call Now for Details