How Does a Settlement Agreement Work?
You're injured in an accident. Afterward, you do all the right things: going to the doctor, documenting your injuries and filing your claim for compensation. After your attorney builds the evidence, and you have a few preliminary court dates, your attorney explains that the other side has made a settlement offer. It's a fair offer, and they think that you should take it.
If you assumed the only way to get the compensation you deserve was to go to trial, a settlement agreement could be confusing. To help clarify, our Las Vegas personal injury attorneys break down everything you need to know about settlement agreements and how they work.
START YOUR FREE CONSULTATION
NO FEES UNLESS WE WIN!
What Is a Settlement Agreement in a Personal Injury Case?
A settlement agreement works by the parties coming to terms on a resolution of the case. The parties agree on exactly what the outcome is going to be. They put the agreement in writing, and both parties sign it. Then, the settlement agreement has the same effect as though the jury decided the case with that outcome. Next, the parties execute the judgment by following the terms of the settlement, including making payment.
How Do You Negotiate a Settlement Agreement?
You negotiate a settlement agreement by talking with the other side about how they might be willing to resolve the case. There could be factual issues that may be helpful to have evidence with you to show and discuss. The parties might review factual disagreements in-depth or only talk about options to resolve the case. To negotiate a settlement, you strategically discuss the terms on which you might be able to agree. Then, you put the settlement in writing and submit it to the court for signature.
Overall, the stronger your case and the more evidence you have to back up your claim, the better. For this reason, your personal injury lawyer should build a robust legal strategy before trying to negotiate a settlement on your behalf. Your personal injury settlement amount offer pivots around the strength of your case.
What Should Be Included in a Settlement Agreement?
What should be included in a settlement agreement is all the terms that you want to be part of the final judgment. For example, it might just state the amount that one party is going to pay to the other party. However, it might also say the timeline for payment or specify what the payment is for. There may or may not be an admission of liability.
RELATED: Structured vs. Lump Sum Personal Injury Settlements
Once a settlement is signed, it's difficult to reopen the judgment even if circumstances change in the future. That means anything that a party wants to be included in the final resolution must be in the settlement agreement.
When Is a Settlement Agreement Binding?
When a settlement agreement is binding depends on the jurisdiction that presides over the case. In some states, a settlement agreement is binding when both parties sign it. If this is the law in the jurisdiction, a settlement document can be enforceable even when it's handwritten on notebook paper. For other jurisdictions, a settlement agreement is not binding until it's submitted to a court and signed by a judge.
Can You Overturn a Settlement Agreement?
You can overturn a settlement agreement by demonstrating that the settlement is defective. A settlement agreement may be invalid if it's made under fraud or duress. A mutual mistake or a misrepresentation by the other party can also be grounds to overturn a settlement agreement. However, overturning a settlement agreement isn't easy to do. It's up to the person who wants to have the judgment set aside to prove that there is a reason to invalidate the judgment.
Is an Offer of a Settlement Binding?
No, a settlement offer is not binding until the other side accepts it. A settlement offer is just a proposal to resolve the case. The parties have to agree on the resolution of the case mutually and prepare the appropriate documents for an offer to become binding. By itself, without agreement from the other party, a settlement offer is not binding.
The party who receives a settlement offer from the other side may accept it, reject it or make a counteroffer. If the parties can't mutually agree on the case's resolution, then there is nothing binding on either party, and the case proceeds to trial. When the parties memorialize their agreement as required by the law in their jurisdiction, a finalized settlement offer becomes binding.
Settlement Agreement Counteroffers
A settlement agreement counteroffer is a response to an initial settlement offer. When one party receives an offer from the other party, they have three options: they may accept it, reject it or propose something else. A counteroffer is a proposal of a different resolution. In making a counteroffer, the party essentially rejects the initial offer. Most settlement agreements are the result of offers and counteroffers.
Motion to Enforce a Settlement
Once the parties execute a settlement agreement, it becomes a judgment of the court. Then, the parties have to carry out the judgment. A question then arises of how a party should respond when the other party doesn't take the required steps to execute a judgment. If one party has to pay the other party, the one who receives the money needs to have a recourse if the other side doesn't pay. The party who doesn't get paid can make a motion to enforce the settlement.
In a motion to enforce a settlement, the party states that the other side hasn't complied with their obligations under the judgment. They ask the court to demand compliance. The other side may even be found in contempt of court with the correlating remedies available to the party who is the victim of non-compliance.
RELATED: Can a Personal Injury Settlement be Garnished?
Making a Settlement Agreement Work
There are a few things to be aware of in terms of making a settlement agreement work. The agreement must include all of the things that you want to be a part of the final judgment. It must take into account projected future losses and suffering. The judgment must spell out any details that go along with the agreement. In addition, the agreement cannot be made with misrepresentation, duress or fraud. Finally, the parties should understand when a settlement becomes final, whether it is when the parties sign a rough draft or when a judge finalizes the agreement.
Working with an experienced personal injury attorney will put you in the best strategic position to receive a fair settlement because you have a strong case. The lawyers at Adam S. Kutner, Injury Attorneys, pride ourselves on being strong legal advocates and compassionate guides for our clients. We will be by your side through every step of your case, whether negotiating a settlement agreement or taking the case to trial. Contact us today for a free case evaluation.
Legal Disclaimer
This webpage is not intended to be an advertisement or solicitation. The hiring of a lawyer is an important decision that should not be based solely upon advertisements. Material contained in our website is for general information only and does not constitute legal advice or solicitation of legal services.
Transmission of information from this site is not intended to create, and its receipt does not constitute, an attorney-client relationship between Adam S. Kutner and the user of this site. In the event that any information on this web site does not conform fully with regulations in any jurisdiction, this law firm will not accept representation based on that information.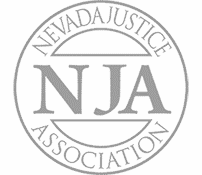 Adam Kutner es uno de los 100 mejores abogados litigantes con experiencia y conocimientos que lo beneficiarán
Llámenos hoy al (702) 382-0000 en cualquier momento para programar una consulta gratuita. Trabajaremos para conseguirle la máxima liquidación lo antes posible.
Conozca a más abogados asociados
Adam Kutner Reviews & Testimonials
"I needed an attorney because I couldn't deal with the accident on my own, so I needed someone else's opinion about my accident.
Well I heard about Adam Kutner through an associate of mine and I chose to seek him because I heard of him before also, so I thought he would be the best option for me.
I was very happy with my settlement and it came quicker than I thought, in just a couple months I received a check in the mail.
When I recommend Adam Kutner I would tell them that the settlement comes very quickly, and he is very helpful with transportation and whatever else you may need."
– Deborah Banks. 5/5 Stars
Real Client Testimonial: Deborah Banks
START YOUR FREE CONSULTATION
NO FEES UNLESS WE WIN!
Home Visits Are Available
Call Now for Details