Gas Station Slip and Fall Accidents
Gas station slip and fall accidents are a leading cause of injuries to consumers. With about 168,000 gas stations in the United States, accidents are bound to occur. When you go to a gas station, you expect to fuel your vehicle and get on with your day quickly. But what happens when you're hurt in a slip and fall accident at a gas station? Our slip and fall lawyers explain your rights.
START YOUR FREE CONSULTATION
NO FEES UNLESS WE WIN!
Gas Station Slip and Fall
A gas station slip and fall is a fall that occurs because of a dangerous condition at a gas station. The result may be a serious injury to a victim. A fall can occur because of a gasoline spill, because of other dangerous conditions on the property, or even because of the behavior of the patrons. When a slip and fall occurs, you may deserve compensation under a legal concept called premises liability.
Premises Liability and Gas Station Slip and Fall Accidents
Premises liability is the legal theory that a business, like a gas station, has a duty to keep their property safe for its customers. Premises liability laws apply to a gas station because they are a business open to the public. There are several ways that a gas station may open itself up to legal liability for dangerous conditions:
Potholes
Broken steps
Broken door handles
Misplaced equipment
Displays in the aisles where someone can trip on them
Oil and gas spills
Water spills
Assault and battery from other patrons
To determine legal liability in each case, it's important to look at the facts in detail. Applying very high standards, you look to see if the property owner should have done more to prevent the gas station slip and fall. If the answer is yes, you deserve financial compensation for a wide range of damages. Damages may include lost income, medical bills, physical therapy, lost household services, pain and suffering, and more.
Suing a Gas Station
Suing a gas station is your legal remedy if you're hurt at the gas station. A gas station has a high legal duty to provide a safe customer experience. As a business that's open to the public, the gas station must actively take steps to find and fix dangers before they can cause injury to the public, like in a slip and fall accident.
Suing a gas station means filing a complaint for compensation that lists the events that give rise to your legal claim. You may sue a gas station for any dangerous condition that they should have been able to find and remedy before it resulted in an injury.
Gas Station Slip and Fall Settlements
Gas station slip and fall settlements account for the financial damages and pain and suffering that a victim endures as a result of the accident. A settlement should account for the reasonable value of the claim, including medical bills and an additional amount for pain and suffering compensation. Most gas station slip and fall cases resolve by settlement. You may be surprised at the high value of a gas station slip and fall settlement once all of the categories of damages are accounted for.
To reach a fair settlement, you must have some idea of the value of the slip and fall claim. When you reach a gas station slip and fall settlement, it is the final resolution of the case. You wait for the court to approve your settlement paperwork, and then you collect payment according to the settlement agreement. An experienced attorney can help you ensure that your gas station slip and fall settlement fully and fairly represents your rights and interests.
What's Involved in Bringing a Slip and Fall Case Against a Gas Station?
A slip and fall case against a gas station may resolve informally through a demand letter. However, you may also need to file your case in court. Each case is different, so some of the steps may not apply to you. Here are some of the steps involved in bringing a slip and fall case against a gas station:
Taking photos of the accident scene; inspecting the scene for defects or conditions that may have contributed to the accident
Seeking medical evaluations to determine the full extent of your injuries
Gathering evidence of your financial losses like medical bills lost work and projected losses into the future.
Writing a demand letter to the gas station stating your claim
Formally initiating a demand for compensation by filing a summons and complaint in court
Participating in the discovery process to gather and share information about the case
Attending court regarding preliminary motions to discuss the evidence
Settlement negotiations; both informal and formal settlement negotiations may occur
Trial; testifying in court, cross-examination of witnesses
Arguments to the jury
All of these steps might sound like a lot, but don't worry! You have the right to help from an experienced slip and fall attorney. A personal injury attorney can help you work through the legal process quickly and efficiently. They can ensure that you receive top dollar for your claim while easing the burden of working through the legal system. In fact, with the right gas station slip and fall attorney fighting for you, the result can be that you receive much more than if you try to handle the case on your own.
Gas Station Slip and Fall Attorneys Las Vegas
Gas station slip and fall attorneys in Las Vegas can represent you through every step of the claims process after an injury at the gas station. If you've been hurt in a gas station slip and fall, we invite you to take the first step and contact our gas station slip and fall attorneys in Las Vegas. Our team works aggressively and with passion to help each gas station slip and fall accident victim receive the compensation that they deserve.
Lawyers for Slip and Fall Gas Station Accidents
Have you been hurt in a gas station slip and fall accident? Get the compensation that you deserve. The team at Adam S. Kutner, Injury Attorneys is an aggressive and fully equipped law firm. We're experienced lawyers for slip and fall accidents, and we're ready to fight for you. There's no cost to call to speak with a member of our team. Let's work together to win you the justice that you deserve. Call us today.
Legal Disclaimer
This webpage is not intended to be an advertisement or solicitation. The hiring of a lawyer is an important decision that should not be based solely upon advertisements. Material contained in our website is for general information only and does not constitute legal advice or solicitation of legal services.
Transmission of information from this site is not intended to create, and its receipt does not constitute, an attorney-client relationship between Adam S. Kutner and the user of this site. In the event that any information on this web site does not conform fully with regulations in any jurisdiction, this law firm will not accept representation based on that information.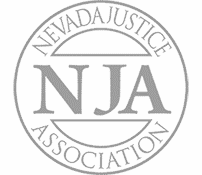 Adam Kutner es uno de los 100 mejores abogados litigantes con experiencia y conocimientos que lo beneficiarán
Llámenos hoy al (702) 382-0000 en cualquier momento para programar una consulta gratuita. Trabajaremos para conseguirle la máxima liquidación lo antes posible.
Conozca a más abogados asociados
Adam Kutner Reviews & Testimonials
"I needed an attorney because I couldn't deal with the accident on my own, so I needed someone else's opinion about my accident.
Well I heard about Adam Kutner through an associate of mine and I chose to seek him because I heard of him before also, so I thought he would be the best option for me.
I was very happy with my settlement and it came quicker than I thought, in just a couple months I received a check in the mail.
When I recommend Adam Kutner I would tell them that the settlement comes very quickly, and he is very helpful with transportation and whatever else you may need."
– Deborah Banks. 5/5 Stars
Real Client Testimonial: Deborah Banks
START YOUR FREE CONSULTATION
NO FEES UNLESS WE WIN!
Home Visits Are Available
Call Now for Details