What to Do After a Slip and Fall
Getting hurt in a slip and fall isn't something that you plan for. When the unexpected happens, you may be scared and confused. While you want to do everything as right as possible after a slip and fall, you may not even know where to begin.
What you do after a slip and fall can impact your ability to get a fair recovery for your losses. Understanding what to do after a slip and fall can help you take measures to protect yourself and your ability to recover. Here's what to do after a slip and fall accident.
START YOUR FREE CONSULTATION
NO FEES UNLESS WE WIN!
1. Seek Medical Attention
Not only is medical attention critical for your safety, but it's also the first step in building your case. When you're hurt in a slip and fall, the first thing that you need to do is document your injuries. Visiting a doctor immediately after your slip and fall is the most important thing you can do to create an expert record of your injuries.
Seeking medical attention quickly after a slip and fall also proves the timing of your injuries. It's common for the defense to try to dismiss your injuries, saying that you must have gotten them on another occasion. Going to the doctor right away prevents the other side from having any chance to say that you got your injuries in another way.
Also, the full extent of your injuries may not be immediately apparent to you after a slip and fall. If you have head trauma, you may not be aware of it. There are a variety of injuries that might be hidden to you in the aftermath of a fall. A medical expert knows what to look for. They can make sure that you've identified all of your injuries. Not only is a full accounting of your injuries critical for your recovery, but it's also essential to build a complete case for a fair recovery.
2. Inspect the Scene
What caused you to fall? Did a store have a display where someone could easily trip on it? Was there water on the floor? Did the store let too many people in to shop at once for a special event?
The best time to try and pin down the cause of your slip and fall is immediately after it occurs. Look around you. If you can pinpoint the cause of your fall, you can work backward to determine what the store owners and employees might have done differently to prevent you from falling.
3. Take Photographs
While the jury can listen to what witnesses have to say and visualize the scene, it's more powerful if the jury can look at photos. Even if you're not sure what you're taking a picture of, take photos of the scene.
Your smartphone is good enough. Take photos of the floor, the area around you, and even the area that surrounds the scene. Your attorney can help you determine what's most important later. Photos can be critical to show the jury that your version of events is accurate.
4. Identify Witnesses
Witnesses are critical to verify your version of events. If your slip and fall happens at a business, other customers might be your best witnesses. It's important to get their contact information so that you can call them to testify on your behalf. Approach witnesses and ask for their name, phone number, address, and email address. You can even ask for a brief explanation of what they saw.
When you work with an attorney, they will follow up with witnesses quickly. They'll ask them for a detailed statement in writing. If there aren't third-party witnesses, you may still have a strong claim for recovery. However, having witnesses in your corner can prevent the defense from trying to deny your version of events.
5. Make Official Reports
A business might want you to make an accident report for their records. Go ahead and make the statement. Don't embellish, but make sure you include all vital information.
Making an official report can be critical for the timing of your claim. Having the complaint on file can stop the other side from claiming that you didn't take your accident seriously when it happened.
6. Write Things Down
When in doubt, write it down. As soon as you can, sit down and write out a narrative of exactly what happened. Include every detail, even the small ones.
Your memory can fade quickly. What's obvious today might be hard to remember tomorrow. Keep track of your injuries, pain, and symptoms. Your attorney can help you put it all together to bring your claim.
7. Work With An Attorney As Soon As Possible
It is the other side's goal to pay you as little as possible. When you talk to the other party or their insurance company, they might take what you say out of context. They might also completely twist your words or claim that you said something that you didn't say.
When you work with an experienced attorney, they can handle the negotiations with the other side. A lawyer knows when to offer information and when to hold the cards close to their vest. Your attorney has years of experience handling hundreds of slip and fall cases. They know what to do after a slip and fall because they've been there before. They can handle the tense negotiations with the other side.
Don't Let Your Slip and Fall Slip Away
What you do after a slip and fall is critically important to getting a fair recovery for your claim. Preserving and building your claim after a slip and fall is a matter of verification and documentation. From seeking immediate medical attention to taking photographs to identifying witnesses, much of what you need to do after a slip and fall involves preparing the evidence that verifies your story.
The sooner you work with a qualified personal injury attorney, the better. They have experience preparing slip and fall cases for maximum recovery. They can take the work that you've already started and build on it. An attorney can ask the right questions and make sure that you're doing everything that you can to maximize your recovery and make the claims process as smooth as possible.
Nota legal
Esta página web no pretende ser un anuncio o solicitud. La contratación de un abogado es una decisión importante que no debe basarse únicamente en anuncios. El material contenido en nuestro sitio web es solo para información general y no constituye asesoramiento legal ni solicitud de servicios legales.
La transmisión de información desde este sitio no pretende crear, y su recepción no constituye, una relación de abogado-cliente entre Adam S. Kutner y el usuario de este sitio. En el caso de que cualquier información en este sitio web no cumpla completamente con las regulaciones en cualquier jurisdicción, este bufete de abogados no aceptará representación basada en esa información.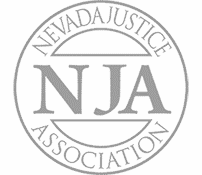 Adam Kutner es uno de los 100 mejores abogados litigantes con experiencia y conocimientos que lo beneficiarán
Llámenos hoy al (702) 382-0000 en cualquier momento para programar una consulta gratuita. Trabajaremos para conseguirle la máxima liquidación lo antes posible.
Conozca a más abogados asociados
Adam Kutner Reviews & Testimonials
"I needed an attorney because I couldn't deal with the accident on my own, so I needed someone else's opinion about my accident.
Well I heard about Adam Kutner through an associate of mine and I chose to seek him because I heard of him before also, so I thought he would be the best option for me.
I was very happy with my settlement and it came quicker than I thought, in just a couple months I received a check in the mail.
When I recommend Adam Kutner I would tell them that the settlement comes very quickly, and he is very helpful with transportation and whatever else you may need."
– Deborah Banks. 5/5 Stars
Real Client Testimonial: Deborah Banks
START YOUR FREE CONSULTATION
NO FEES UNLESS WE WIN!
Home Visits Are Available
Call Now for Details