How Long Does a Workers' Comp Case Take to Settle?
Injured workers in Nevada are able to get financial support from workers' compensation (WC) when they've suffered an injury or illness on the job. By filing a claim, they can get compensation for medical care, transportation costs to get treatment, and a portion of their wages while they recover.
While some workers' compensation cases will take a few weeks to a couple of months to settle, others can take several months to years to reach a resolution. The time frame depends on the situation, the severity of the work injury, and the settlement amount. Our Las Vegas workers' compensation lawyers explain.
START YOUR FREE CONSULTATION
NO FEES UNLESS WE WIN!
What is the average time to settle a workers' comp case?
Although there are several factors that can affect this time frame, the average amount of time it takes to reach a workers' comp settlement is 12-18 months. During the claims process, the workers' compensation insurer can offer a settlement that is meant to be a fair amount based on injuries and expected medical costs.
Need help with a workers' comp claim? Schedule a FREE consultation with our team. Contact us now.
What affects the time it takes to reach a workers' compensation settlement?
The factors that can impact how long it takes to settle a workers' compensation claim include:
Severity of injuries
Predictability of medical expenses
If the injured worker has reached maximum medical improvement (MMI)
The circumstances that lead to the incident
Whether there are factual disputes
If the claim was denied
The willingness of both parties to compromise on the settlement amount
A WC case will usually settle quickly if the injury is minor, the treatment is very clear, and the outcome is predictable. In these cases, the insurance company can calculate how much compensation the injured worker deserves and will offer a settlement based on that amount. The more complex the claim, the longer it will take to settle.
However, it's important to know that you don't have to accept the initial settlement offer if it doesn't accurately reflect your losses. Once you agree to a lump sum settlement, your workers' comp claim will be closed. Contact an experienced workers' comp attorney to learn more about your rights and what you can do to get the maximum benefits for your work-related injury or illness.
What are the steps and time limits to file a workers' comp claim?
Here are the steps involved in filing workers' comp claims and the time limits to complete each step:
Report the Incident
After being injured on the job, the first step is to fill out a notice of injury or occupational disease (C-1 form) and return it to your employer. You have seven days from the accident to complete this report and provide it to the employer. Once received, your employer is required to keep the completed form on record for three years.
Verify Injury With a Treating Physician
An injured worker will need to see a treating physician to complete a C-4 form (Employee's Claim for Compensation/Report of Initial Treatment). This form confirms the injury and that the employee cannot return to work for five consecutive days or more, or at least five days in a 20-day period.
Because the C-4 form is necessary for your employer and the insurance company to take the next steps, your physician must sign and date the form within 90 days of the injury. Completing and filing this form is what starts your official WC claim. (NRS 616C.020)
The Employer Files an Insurance Claim
Your employer will complete a C-3 form and file it with their WC insurance provider. They must file it within six working days of receiving a C-4 form from the employee.
Verification of Wages
Employers will also need to complete a D-8 form, which confirms the wage history of the injured worker. The employer must file this form with the insurance provider within six working days of receiving the employee's C-4 form.
Accept or Deny Claim
After the insurance company is notified of the accident and receives the appropriate forms, it has 30 days to either accept or deny the claim. If the claim is accepted, payments should begin right away. However, if the claim is denied, there is an appeal process that follows. (NRS 616C.065)
The Workers' Comp Claim Is Closed
When injured employees reach their maximum medical improvement, it means they have recovered as much as possible from the injury. At this point, the insurance provider may offer a settlement to close the claim. For those with Permanent Partial Disability (PPD) or Permanent Total Disability (PTD), you can collect your settlement in a lump sum or in periodic payments.
Are there different types of workers' comp settlements?
In general, there are two ways to settle a workers' compensation claim:
Stipulated Award – A stipulation and award settlement means your employer's insurer agrees to cover future medical expenses related to your injury—even if it happens to be more than initially expected.
Compromise and Release – A compromise and release settlement involves a lump sum offered by the insurance company. This amount is meant to compensate for future medical costs, future disability payments, and other expenses the insurer should cover. The injured worker can choose to accept this in a single payment or in a structured settlement payout over time.
Get the maximum amount for your claim. Contact our personal injury lawyers to schedule a FREE consultation with our team.
Speak With a Workers' Compensation Attorney
If you're unsure of how to file a workers' compensation claim or the insurance company is offering less than you deserve, our team can help. Contact our personal injury lawyers who specialize in workers' compensation cases to schedule a free consultation today. We can offer legal advice and help you understand your rights as an employee.
Sources:
State of Nevada Department of Business & Industry. Nevada Attorney for Injured Workers (NAIW). Filing a Workers' Compensation Claim.
Legal Disclaimer
This webpage is not intended to be an advertisement or solicitation. The hiring of a lawyer is an important decision that should not be based solely upon advertisements. Material contained in our website is for general information only and does not constitute legal advice or solicitation of legal services.
Transmission of information from this site is not intended to create, and its receipt does not constitute, an attorney-client relationship between Adam S. Kutner and the user of this site. In the event that any information on this web site does not conform fully with regulations in any jurisdiction, this law firm will not accept representation based on that information.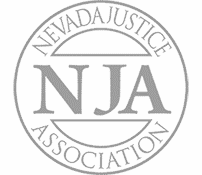 Adam Kutner es uno de los 100 mejores abogados litigantes con experiencia y conocimientos que lo beneficiarán
Llámenos hoy al (702) 382-0000 en cualquier momento para programar una consulta gratuita. Trabajaremos para conseguirle la máxima liquidación lo antes posible.
Conozca a más abogados asociados
Adam Kutner Reviews & Testimonials
"I needed an attorney because I couldn't deal with the accident on my own, so I needed someone else's opinion about my accident.
Well I heard about Adam Kutner through an associate of mine and I chose to seek him because I heard of him before also, so I thought he would be the best option for me.
I was very happy with my settlement and it came quicker than I thought, in just a couple months I received a check in the mail.
When I recommend Adam Kutner I would tell them that the settlement comes very quickly, and he is very helpful with transportation and whatever else you may need."
– Deborah Banks. 5/5 Stars
Real Client Testimonial: Deborah Banks
START YOUR FREE CONSULTATION
NO FEES UNLESS WE WIN!
Home Visits Are Available
Call Now for Details