Legal Challenges in a Slip and Fall Case
To succeed in your slip and fall legal claim, you need to be prepared for both legal challenges and factual challenges. Factual challenges have to do with proving the case happened as you say it happened. Legal challenges are the legal procedures and regulations that control how a claim proceeds.
A legal challenge can derail an otherwise strong case. Whether you're an attorney or a victim in a slip and fall case, you need to understand the legal challenges that can impact your case. Our slip and fall attorneys explain.
START YOUR FREE CONSULTATION
NO FEES UNLESS WE WIN!
Legal Challenges in a Slip and Fall Case
Legal challenges in a slip and fall case include jurisdiction, the discovery process, expert witness presentation, blocking irrelevant testimony, hearsay rules, and jury instructions. Legal challenges come from rules of evidence, rules of civil procedure, and other statutes that impact a legal case. It includes any kind of procedural rule that controls how evidence is admitted and what is ultimately presented to the jury.
Types of Legal Challenges in a Slip and Fall Case
Here are several types of legal challenges in a slip and fall case:
Jurisdiction
A case begins with filing a complaint in court. However, to properly start the case, you have to file the complaint in a court with authority to hear the case. Usually, you file the case in the location where the slip and fall occurs. However, it isn't always so simple. If the slip and fall occurs at a business, there might be advantages to filing the case where the company has its headquarters, for example.
In addition, where you file the case might make a difference when it comes to what law applies. You need to know which court has jurisdiction, but you might need to choose the best place among possible options. Don't let jurisdiction be a stumbling block in your case.
Discovery
Legal issues with the discovery process can prevent you from building your case. For example, you may want documents from a third party. How you prepare the subpoena and serve it can impact whether you have a legally enforceable order for production of documents.
Enforcing discovery can be a significant legal issue in every slip and fall case. Discovery is the legal process of gathering evidence and the witnesses that you need to prove the case. As a slip and fall victim, you must be prepared to respond to legal challenges that are intended to thwart the discovery process.[1]
Expert Witness Thresholds
A slip and fall case often relies on a number of expert witnesses. However, trying to introduce expert testimony can result in a legal challenge. Even if you have a great expert witness lined up, you have to comply with requirements to admit their testimony. You may need to name them on your witness list. You may even need to supply a summary of their testimony.
In Nevada, an expert witness must be qualified with scientific, technical, or specialized knowledge. The information must be relevant and the product of reliable methodologies. If you fail to take the proper steps to admit expert testimony, you may find yourself facing a legal challenge in your slip and fall case.
Preventing Victim Smearing
Many defendants try to fight a slip and fall case by smearing the victim. They may try to bring up embarrassing medical issues, other lawsuits, or personal issues that don't have anything to do with the case. Their purpose is to try to mislead the jury or try to intimidate you out of pursuing your case. Preventing victim smearing is very much a legal challenge in a slip and fall case.
The legal principles that apply are relevance issues. Nevada law 48.035 says that the court may exclude evidence that is unfairly prejudicial or that may confuse the issues.[2] Nevada law 48.015 says that relevant evidence is admissible unless the potential for prejudice outweighs the probative value.[3] A slip and fall attorney must be prepared to bring the appropriate preliminary motions and objections to address the legal challenge of irrelevant and prejudicial evidence.
Admitting Present Sense Impressions
A lot of a slip and fall case comes down to witness testimony. The case might hinge on what witnesses see and hear. They often talk about their observations during or shortly after the slip and fall. Later, memories can fade. Witnesses can take sides or try to manipulate their testimony. That means, what witnesses say immediately after a slip and fall can be very important.
However, be prepared for legal challenges. The other side may improperly try to say that a statement is hearsay when it is not. Nevada law 51.085 allows a party to admit a witness statement if the witness describes an event while they perceive it or right after.[4] The introduction of this kind of statement is not blocked by the hearsay rule even though Nevada law 51.065 says that hearsay is generally inadmissible.[5] You must be prepared to address legal challenges that have to do with the admission of highly valuable witness statements in a slip and fall case.
Jury Instructions
Once you present the evidence, the jury decides the case. However, the court doesn't just read the jury the laws. They read written out statements that explain the laws, called jury instructions. If the other side claims comparative negligence, there's a jury instruction for that.
There's another jury instruction for evaluating witness testimony. The parties bring legal challenges in a slip and fall case to try and get the most favorable jury instructions possible. You must be prepared to respond to legal challenges brought by the other side.
Contact Our Experienced Slip and Fall Attorneys If You Are Concerned About Issues in Your Case
Winning a slip and fall case is about winning the legal challenges as much as it is about having the facts on your side. You don't want to risk losing the compensation that you deserve because of a legal error. Hire our trained slip and fall attorneys to fight for justice for you.
Sources
[1] Nevada Rules of Civil Procedure. (n.d.). Retrieved 2 March 2020, from https://www.leg.state.nv.us/CourtRules/NRCP.html
[2] NRS 48.035
[3] NRS 48.015
[4] NRS 51.085
[5] NRS 51.065
Legal Disclaimer
This webpage is not intended to be an advertisement or solicitation. The hiring of a lawyer is an important decision that should not be based solely upon advertisements. Material contained in our website is for general information only and does not constitute legal advice or solicitation of legal services.
Transmission of information from this site is not intended to create, and its receipt does not constitute, an attorney-client relationship between Adam S. Kutner and the user of this site. In the event that any information on this web site does not conform fully with regulations in any jurisdiction, this law firm will not accept representation based on that information.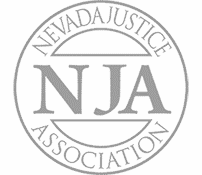 Adam Kutner es uno de los 100 mejores abogados litigantes con experiencia y conocimientos que lo beneficiarán
Llámenos hoy al (702) 382-0000 en cualquier momento para programar una consulta gratuita. Trabajaremos para conseguirle la máxima liquidación lo antes posible.
Conozca a más abogados asociados
Adam Kutner Reviews & Testimonials
"I needed an attorney because I couldn't deal with the accident on my own, so I needed someone else's opinion about my accident.
Well I heard about Adam Kutner through an associate of mine and I chose to seek him because I heard of him before also, so I thought he would be the best option for me.
I was very happy with my settlement and it came quicker than I thought, in just a couple months I received a check in the mail.
When I recommend Adam Kutner I would tell them that the settlement comes very quickly, and he is very helpful with transportation and whatever else you may need."
– Deborah Banks. 5/5 Stars
Real Client Testimonial: Deborah Banks
START YOUR FREE CONSULTATION
NO FEES UNLESS WE WIN!
Home Visits Are Available
Call Now for Details