Slip and Fall Accidents Due to Store Security Negligence
If the COVID-19 crisis has taught us anything, it's that people flock to purchase supplies in a crisis.
What happens when everyone wants to buy the same thing at once? What happens when the number of people in a store surges because of a sudden event? What does the store need to do to protect themselves from legal liability?
Our Las Vegas slip and fall attorneys break down what you need to know.
START YOUR FREE CONSULTATION
NO FEES UNLESS WE WIN!
Negligent Security and Slip and Fall Accidents
Slip and fall accidents due to store security negligence are accidents that occur because of poor security in the store. A store has the legal obligation to control crowds. They must be able to respond appropriately when disruptions arise. When an injury occurs because the store didn't provide sufficient security for the situation, the store may be liable to a victim.
Legal liability may still apply even if it's not a store employee that personally causes the harm. For example, someone might get hurt while two customers are fighting over a single pack of toilet paper. If that happens, it's not a store employee who creates the injury themselves by being a part of the fight. But it could be the fault of the store for not having enough employees on hand to control the crowds in the first place.
The legal term for injuries because of poor security practices is called negligent security. Negligence means not acting in a reasonable manner. Security is the store's obligation to control what happens on its property. When you're hurt in an accident that occurs because crowd control was lacking at a store, the type of case that you have is a negligent security claim.
Legal Liability for Fights Over Products in Grocery Stores
When patrons fight over products, there are several ways that blame may ultimately fall on the grocery store:
The store could have let in limited numbers of shoppers at each time.
The store could have created clear expectations by limiting the amount of a product that may be purchased at a time.
They could keep a high-demand product in a secured location to distribute it to shoppers appropriately.
In all cases, they need to have trained personnel on the property to carefully control the crowds.
The standard for a slip and fall accident that occurs because of poor security is what's considered reasonable. In most cases, a sudden surge for a product, or a very popular shopping time, is something that the store knows about in advance. They can typically see it coming. They should respond with reasonable measures and ensure that they have proper staffing and rules for shoppers in order to address the surge in demand.
Of course, the store representatives aren't expected to foresee the future. Their job is to do what's reasonable based on all of the circumstances. There isn't a bright line for what's reasonable and what's not reasonable. Instead, all of the relevant facts are important to evaluate the actions of a store when a slip and fall occurs.
Store Liability for What Happens on Their Property
At first glance, it might seem unfair that the store itself is liable for an accident. However, if you think about the actions of each party, it may be reasonable to hold the store accountable for not taking the right steps to prevent the accident. If the store had better security, the accident might not have happened. The store isn't expected to prevent all accidents. However, they are expected to take the steps that are reasonable to provide a safe shopping experience for their customers.
One woman bought a claim against Walmart for injuries that she sustained during Black Friday shopping. The woman said that she waited outside for hours before the store opened its doors. When the doors opened, she was shoved and kicked by other customers. People were all clamoring for the same $49.99 tablet, she said. The woman claimed to hit the floor, suffering injuries to her head, neck and back. In addition to other claims, the lawsuit said that the store could have prevented accidents by warning customers in advertising that quantities were limited.
Comparative Negligence and Coronavirus Product Shortages
Comparative negligence might be an issue in negligent security claims involving product shortages. While there is a very high legal burden on business owners to secure their property, customers have a duty of care, too. If a customer is acting as an aggressor and fighting for a product, the store may try to use that as a defense.
Simply trying to pick up a product to purchase shouldn't be enough to amount to comparative negligence. However, there are some circumstances where a patron can have comparative negligence. Even if the customer shares some blame, it's typically not enough to completely relieve the store of legal liability when accidents occur.
RELATED: How Comparative Negligence Affects Your Slip and Fall Case
Your Rights if You're Injured in a Slip and Fall During the Coronavirus Crisis
If you're injured at a store during the Coronavirus crisis, you have legal rights. It might not be obvious that the accident is the store's fault. However, an experienced attorney can look at the case and investigate the legal causes and where legal liability might apply. An attorney has the training to conduct a thorough investigation and provide you with an informed opinion about your legal rights and your ability to pursue compensation.
If legally liable, the store may pay for your physical injuries and your pain and suffering. Your legal team can help you take steps to preserve the evidence, provide information about the value of your claim and bring your case forward for compensation. They can help you negotiate a fair resolution through settlement or present your case in court.
Contact Our Slip and Fall Attorneys
Have you been hurt in an accident at a grocery store? Our experienced Las Vegas slip and fall attorneys can help. Call or message us today to talk to our personal injury attorneys about your case.
Legal Disclaimer
This webpage is not intended to be an advertisement or solicitation. The hiring of a lawyer is an important decision that should not be based solely upon advertisements. Material contained in our website is for general information only and does not constitute legal advice or solicitation of legal services.
Transmission of information from this site is not intended to create, and its receipt does not constitute, an attorney-client relationship between Adam S. Kutner and the user of this site. In the event that any information on this web site does not conform fully with regulations in any jurisdiction, this law firm will not accept representation based on that information.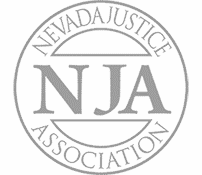 Adam Kutner es uno de los 100 mejores abogados litigantes con experiencia y conocimientos que lo beneficiarán
Llámenos hoy al (702) 382-0000 en cualquier momento para programar una consulta gratuita. Trabajaremos para conseguirle la máxima liquidación lo antes posible.
Conozca a más abogados asociados
Adam Kutner Reviews & Testimonials
"I needed an attorney because I couldn't deal with the accident on my own, so I needed someone else's opinion about my accident.
Well I heard about Adam Kutner through an associate of mine and I chose to seek him because I heard of him before also, so I thought he would be the best option for me.
I was very happy with my settlement and it came quicker than I thought, in just a couple months I received a check in the mail.
When I recommend Adam Kutner I would tell them that the settlement comes very quickly, and he is very helpful with transportation and whatever else you may need."
– Deborah Banks. 5/5 Stars
Real Client Testimonial: Deborah Banks
START YOUR FREE CONSULTATION
NO FEES UNLESS WE WIN!
Home Visits Are Available
Call Now for Details