What is a Plaintiff in a Personal Injury Case?
If you're involved in a serious injury accident, such as a car accident, you may have a lot to learn about the recovery process. When you gather evidence, report your claim to the insurance company or bring a claim for recovery to a Nevada court, you may have a lot of new words involved in the process that you need to understand. The more you learn, the better you can comprehend the process and any case updates as it moves through the courts.
One of the essential words that you're going to encounter in the legal process is the term "plaintiff." You may have heard the phrase plaintiff, but you're unsure of what it means. The plaintiff is the person who brings a lawsuit to ask for recovery from someone else. What's a plaintiff in a personal injury case? Here's what you need to know about the plaintiff in a personal injury case:
START YOUR FREE CONSULTATION
NO FEES UNLESS WE WIN!
What's a Plaintiff in a Personal Injury Case?
The plaintiff in a personal injury case is the person who initiates the lawsuit. They're the person who says that they have a legal claim against someone else. They say that someone else committed a legal wrong against them.
In a personal injury case, the plaintiff is the person who wants someone else to compensate them. They believe that they're hurt or are suffering losses because of the legal wrong committed by someone else. It's the goal of a plaintiff in a personal injury case to have someone else compensate them for losses they sustained because of their injuries.
Who Begins a Personal Injury Case?
The plaintiff is the person who starts a personal injury case. They begin the case by filing their claim in the court. You aren't actually a plaintiff until you formally file your first paperwork in court. You may be a victim from the moment the personal injury accident occurs, but your status changes to plaintiff when you formally bring your case. The person who begins a formal legal case is called the plaintiff.
The Other Party in a Personal Injury Case is Called a Defendant
When you claim a legal wrong against someone else and demand compensation in a personal injury case, you're the plaintiff in the case. The person that you bring your case against is called a defendant. The defendant is the person in the case that has to defend their actions. The plaintiff accuses the defendant of a legal wrong, and the defendant has to respond to the plaintiff's requests for compensation.
To summarize, the plaintiff is the victim of the personal injury case and brings a claim for compensation. The person or company that the plaintiff brings the claim against is referred to as the defendant. You might bring your claim against more than one person or organization. If you're asking all of them for compensation and claiming that they all share blame for the accident, they're all defendants in the case.
A Defendant Can Bring a Counter-Claim or a Cross-Claim and Become a Plaintiff
When a defendant receives their summons and complaint and realizes that they're a party to a lawsuit, they have an opportunity to respond to the allegations. One of the things that they can do is accuse someone else of a legal wrong. They can respond by essentially pointing the finger at someone else, known as a cross-claim. When they add claims against someone else, they also become a plaintiff in the case. They're still a defendant, but they become both a plaintiff and a defendant at this time.
The Plaintiff Has the Burden of Proving the Case
When you're the plaintiff in a personal injury case, it's up to you to prove your theory of the case. You must show that someone else owes you compensation based on Nevada law. You must gather the evidence to prove your case. You must present your evidence to the jury. Ultimately, careful case preparation is crucial to helping the jury understand what happened to cause your injuries. An experienced Nevada personal injury attorney can help you build your case and present it.
What Does a Plaintiff Have to Prove to Win the Personal Injury Case?
Most personal injury cases are based on negligence. To win the case, the plaintiff must show that the defendant was negligent in a way that resulted in injuries to the plaintiff. First, the plaintiff must explain how the defendant owed a duty of care to a plaintiff. There are a lot of ways that a defendant might owe a duty to the plaintiff, such as drivers who owe a duty of care on the roads or a business owner who owes a duty to keep their property safe and clean for customers. The plaintiff must show that the defendant breached their duty of care in a way that caused an injury to the plaintiff.
Finally, the plaintiff must show how he or she is damaged. Usually, the plaintiff does this by showing how they're injured. They also present evidence of their financial losses to the court. Additionally, they may present evidence of their emotional injuries and mental trauma because of the accident. The plaintiff must show that their version of events is accurate. Both the plaintiff and the defendant have the opportunity to present their theory of the case to the jury and make arguments.
When You're a Plaintiff in a Personal Injury Case, How Can the Case Resolve?
When you're the plaintiff in a personal injury case, the case may resolve in a number of ways. Your case may go to a jury trial. You might also present your case to a judge if all of the parties agree. The court may rule on the case without a hearing if the court believes the facts are clear and the law calls for a specific result. You might resolve your case through mediation with the other side and tough negotiations with the help of your Las Vegas or Summerlin personal injury lawyer.
How our Nevada Personal Injury Attorneys Can Help
Being a plaintiff in a Nevada personal injury case may sound intimidating, but it doesn't have to be. Our Nevada personal injury attorneys can help you draft and file your claim. We can help you build evidence and work towards the best possible result. If you're hurt in a personal injury accident in Nevada, contact us today to begin working on your claim.
Legal Disclaimer
This webpage is not intended to be an advertisement or solicitation. The hiring of a lawyer is an important decision that should not be based solely upon advertisements. Material contained in our website is for general information only and does not constitute legal advice or solicitation of legal services.
Transmission of information from this site is not intended to create, and its receipt does not constitute, an attorney-client relationship between Adam S. Kutner and the user of this site. In the event that any information on this web site does not conform fully with regulations in any jurisdiction, this law firm will not accept representation based on that information.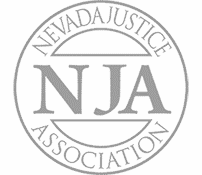 Adam Kutner es uno de los 100 mejores abogados litigantes con experiencia y conocimientos que lo beneficiarán
Llámenos hoy al (702) 382-0000 en cualquier momento para programar una consulta gratuita. Trabajaremos para conseguirle la máxima liquidación lo antes posible.
Conozca a más abogados asociados
Adam Kutner Reviews & Testimonials
"I needed an attorney because I couldn't deal with the accident on my own, so I needed someone else's opinion about my accident.
Well I heard about Adam Kutner through an associate of mine and I chose to seek him because I heard of him before also, so I thought he would be the best option for me.
I was very happy with my settlement and it came quicker than I thought, in just a couple months I received a check in the mail.
When I recommend Adam Kutner I would tell them that the settlement comes very quickly, and he is very helpful with transportation and whatever else you may need."
– Deborah Banks. 5/5 Stars
Real Client Testimonial: Deborah Banks
START YOUR FREE CONSULTATION
NO FEES UNLESS WE WIN!
Home Visits Are Available
Call Now for Details